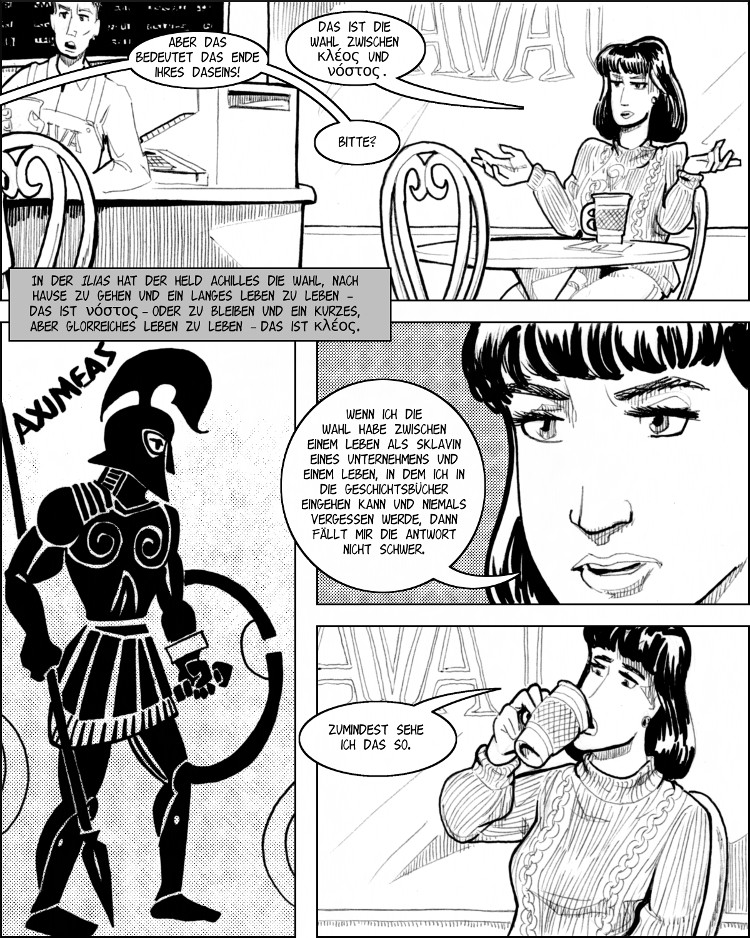 This work is licensed under a Creative Commons Attribution-NonCommercial-ShareAlike 4.0 International License.
PAGE 29 (Four panels)
Panel 1: Daphne, in the interview, now looking serious and pensive.
Unseen interviewer (out-of-panel balloon) (1): But that means the end of you!
Translation (1): Aber das bedeutet das Ende Ihres Daseins!
Daphne (2): It is a choice between κλέος and νόστος.
Comment (2): The Greek text above (κλέος, νόστος) should, if possible, be left untranslated and untransliterated.
Translation (2): Das ist die Wahl zwischen κλέος und νόστος.
Unseen interviewer (out-of-panel balloon) (3): What?
Translation (3): Bitte?
Panel 2: View of a vase painting showing the Greek hero Achilles.
CAPTION – DAPHNE NARRATING (4): In the Iliad, the hero Achilles faces a choice between either going home and living a long life – that's νόστος – or staying to fight and living a short but glorious life – that's κλέος.
Comment (4): See Comment (2) above for how to treat the Greek text.
Translation (4): In der Ilias hat der Held Achilles die Wahl, nach Hause zu gehen und ein langes Leben zu leben – das ist νόστος – oder zu bleiben und ein kurzes, aber glorreiches Leben zu leben – das ist κλέος.
Panel 3: Daphne, leaning forward to engage more closely her unseen interviewer.
Daphne (5): Given the choice between a either a lifetime as a corporate drone after which I shall be forgotten or being part of something that will be in history books for centuries, the right answer seems obvious.
Translation (5): Wenn ich die Wahl habe zwischen einem Leben als Sklavin eines Unternehmens und einem Leben, in dem ich in die Geschichtsbücher eingehen kann und niemals vergessen werde, dann fällt mir die Antwort nicht schwer.
Panel 4: Daphne sitting back, taking a sip from her cup of coffee.
Daphne (6): Or at least, the right answer is obvious to me.
Translation (6): Zumindest sehe ich das so.

Köder (Deutsch/Langseitige Version)
Köder (Deutsch/Dia-Version)