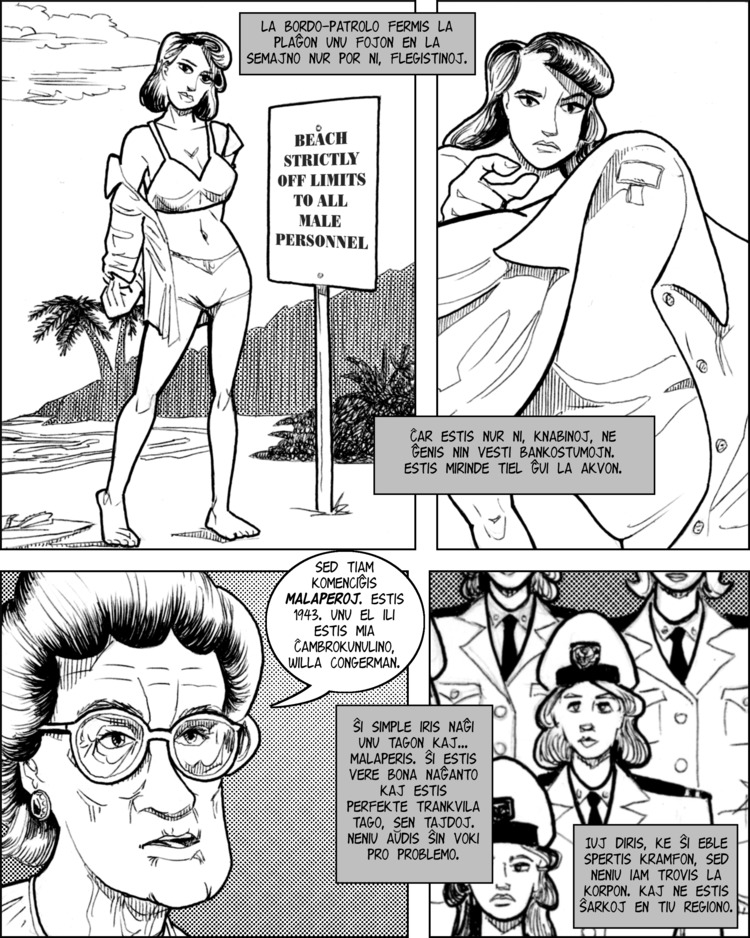 This work is licensed under a Creative Commons Attribution-NonCommercial-ShareAlike 4.0 International License.
PAGE 13 (Four panels)
Panel 1: A pretty Navy nurse in the act of taking off her uniform shirt, exposing her brassiere. She is standing on the beach next to a sign which reads BEACH STRICTLY OFF LIMITS TO ALL MALE PERSONNEL.
CAPTION – HAZEL NARRATING (1): The Shore Patrol would close the beach off once a week just for us nurses.
Translation (1): La Bordo-Patrolo fermis la plaĝon unu fojon en la semajno nur por ni, flegistinoj.
Panel 2: The shirt of the nurse in Panel 1 flying toward the viewer. The panel should imply that it is part of a movie being filmed and that Panel 1 was an earlier frame in the same, but the nurse has noticed that she was being filmed an, in chagrin, has tossed her shirt at the camera lens, which it is about to cover.
CAPTION – HAZEL NARRATING (2): Since it was only us girls, we didn't bother putting on bathing suits. It was wonderful to be out in the water like that.
Translation (2): Ĉar estis nur ni, knabinoj, ne ĝenis nin vesti bankostumojn. Estis mirinde tiel ĝui la akvon.
Panel 3: Another interview shot of Hazel, whose expression has darkened a bit over that in Panel 1
Hazel (3): But then the disappearances began. This was in 1943. One of them was my cabinmate, Willa Congerman.
Translation (3): Sed tiam komenciĝis malaperoj. Estis 1943. Unu el ili estis mia ĉambrokunulino, Willa Congerman.
Panel 4: Head-and-shoulders shot of WILLA CONGERMAN ("Willa") in the dress uniform of a Navy nurse (shoulder epaulets indicating that she has has the rank of Ensign). If possible it should be taken as a detail from Page 10, Panel 1 above.
CAPTION – HAZEL NARRATING (4): She just went swimming one day and…disappeared. She was a really strong swimmer, and it was a perfectly calm day with no tides. No one heard her call in distress.
Translation (4): Ŝi simple iris naĝi unu tagon kaj… malaperis. Ŝi estis vere bona naĝanto kaj estis perfekte trankvila tago, sen tajdoj. Neniu aŭdis ŝin voki pro problemo.
CAPTION – HAZEL NARRATING (5): Some said it might have been a cramp, but no one ever found a body. And there weren't any sharks in the area.
Translation (5): Iuj diris, ke ŝi eble spertis kramfon, sed neniu iam trovis la korpon. Kaj ne estis ŝarkoj en tiu regiono.

Logaĵo (Esperanto/Longpaĝa versio)
Logaĵo (Esperanto/Diapozitivila versio)