Beginning with a announcement twitter announcement from Vinnie Tesla about the comic he has been writing here:
I'm very excited to announce that, thanks to @EroticMadSci's generosity, we are able to publish my graphic novel in both print and ebook.

— Vinnie🥃Tesla (@VinnieTesla) September 18, 2017
Yep, we're actually going to see some publication out there in the wider world beyond this site. I've been reading Circlet material for years and I am thrilled to have a project of which I have been a humble part find a home with the world's premier publisher dedicated to sci-fi and fantasy erotica.
In addition to our contribution — which will be Circlet's first publication of a graphic novel — Circlet is currently running a Kickstarter for a "best-of" 25th anniversary anthology.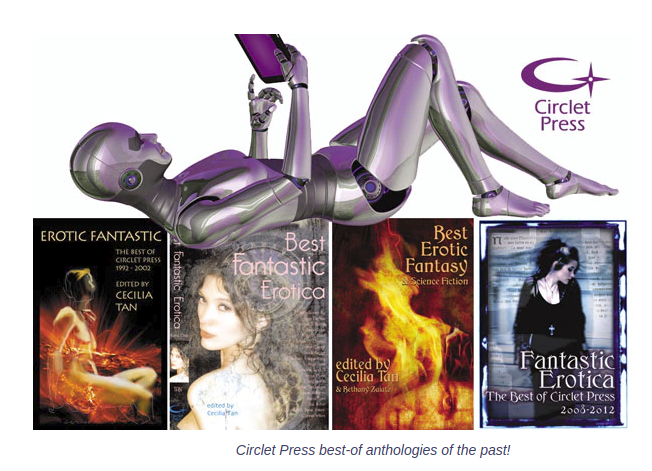 The Circlet people explain their enterprise as follows:
Circlet Press has been publishing erotic science fiction and fantasy since 1992. Our mission has always been to celebrate the sexual imagination as a way to change the world for the better. We would like to see a world where many different expressions of gender and sexuality are accepted and celebrated in ways that they may not be in the present day.

This year marks our 25th anniversary and to commemorate 25 years on the cutting edge of erotic literature, we would like to publish a "best of" anthology, as we did in 2012, 2007, and 2002. To produce a beautiful paperback edition is going to take money.

Even if you're not a publishing expert, you've probably seen that the industry has gone through some huge upheavals. Borders went out of business. Amazon is cornering a once-thriving ebook market. We've weathered nearly every change to hit the book biz over the past 25 years but we've reached a point where crowdfunding is the only real viable path forward to continue publishing the quality of work and the diversity of work that has been our hallmark. We launched a Patreon this year to start covering our staff overhead, while Kickstarter is the best way to fund special projects like this one.
Dear readers, this is your chance to get to be part of erotica publishing history, so if you can please do head over to their Kickstarter and chip in. I have! Let's all do our part to make sure that future generations have something great to read…
…with one hand.