Beware the Asylum represents my attempt to write a "silent" graphic novella. The version presented here contains "captions" that did not appear in the original published edition. It has been illustrated by Rafael Suzarte.
100
Young lovers Bobby and Karen stroll in the moonlight behind Euphoric State Lunatic Asylum.
101
On a moonlit night, Bobby and Karen get out of Bobby's Chevrolet Chevelle SS by the spooky old asylum.
102
The full moon glows behind the looming dome of the abandoned insane asylum.
103
Bobby and Karen break in where they are forbidden to go.
104
How many tormented souls must have passed through this entranceway!
105
The insane asylum is once-magnificent civic architecture now falling into ruin.
106
Bobby has amorous plans for Karen, but what is that noise?
107
Sucked up into the bowels of the asylum!
108
Karen is transported, deposited, and seized by a mechanical grabber.
109
The grabbers begin to strip Karen.
110
The menacing grabbers are thorough in their work.
111
Helpless Karen is sprayed with hot water and soap.
112
The ecstasy of the sponge.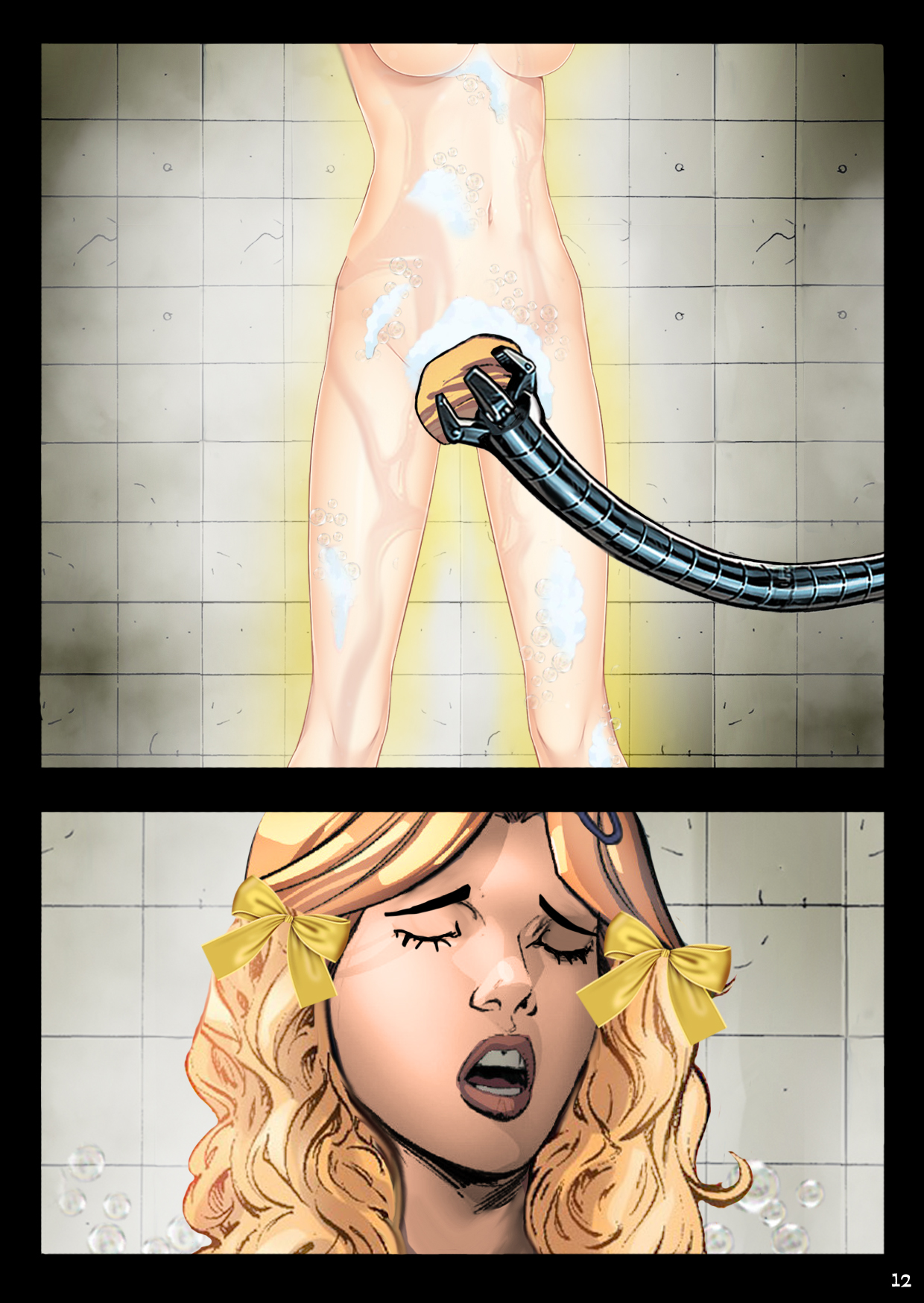 113
Seldom has a hair dryer seemed so dark and menacing.
114
Karen is sucked up and transported again.
115
Meanwhile, Zhelzor the robot brings Bobby face-to-face with the sinister Dr. Vragov.
116
Naked and shamed Karen is imprisoned in a transparent tube.
117
Bobby makes one pitiable attempt at contact, and then there is a blinding white flash of radiation.
118
Karen's flesh is rendered into something like transparent green gelatin, making her skeleton visible. A blue flash.
119
Karen is all transparent green goo. A red flash.
120
To Bobby's horror, Karen is but a green puddle, promptly sucked up.
121
Bobby seizes a makeshift weapon and charges at Dr. Vragov.
122
"Do you see this tube, young man? Everything your girlfriend was, her form, her personality, her memories, are all preserved herein."
123
"Perhaps I could reconstitute her. Or I could just pour her down this drain. What do you think I should do?"
124
On an urban street, Bobby sits in his Chevelle, about to commit a crime in hopes of recovering his girlfriend.
200 — Promo
Darkness prevails. Beware the Asylum, Part II.
201
Shotgun in hand, Bobby sets off for a Chinese herbal medicine shop.
202
Bobby confronts the herbalist, his wife, and some terrified customers.
203
"I demand this herb." "I have no idea…" BOOM! "Heard of it now?"
204
Faced with such violence, the herbalist gives in.
205
Bobby makes a break for it, but this Chinatown neighborhood has protectors of its own.
206
Lam and Chow pursue Bobby by motorcycle, and Lam is not shy about gunplay.
207
A close call and a spray of glass as Lam's .45-caliber bullet nearly hits Bobby.
208
Watch out for that garbage truck! Bobby swerves and misses it.
209
Lam and Chow are not lucky with the truck. May what is left of them rest in peace.
210
Bobby's Chevelle goes head-on into a newsstand.
211
Memories of the journalism of 1975 lie scattered about as Bobby flees down into the subway from approaching police.
212
Bobby hops the turnstile with the cops in hot pursuit.
213
Bobby staggers toward an approaching subway train.
214
Bobby barely makes his train, leaving the cops behind.
215
The box from the herbalist – the precious box – Bobby still has it.
216
The subway in those days was a wild place, and some curious characters regard Bobby curiously.
217
His Chevelle wrecked, Bobby has to hitch a ride with a helpful contractor back to the asylum.
218
Here is the exchange proposed, the precious box for the precious test tube.
219
But Dr. Vragov double-crosses Bobby. Poor Bobby.
220
Dr. Vragov makes the contents of the box into something, which he pipes into a radio-controlled model B-29.
221
Dr. Vragov's model airplane files over Pleasant Valley High School.
222
The airplane spreads a chemical trail over the innocent, unsuspecting students.
223
In the middle of a boring English class, Brenda senses something…delicious.
224
In physical education, Nancy is distracted by something…beguiling. Watch out for that ball, Nancy!
225
Cheerleader Pamela is so overcome by something in the air so…seductive that she drops her books.
226
Compared with whatever Sandra now detects, school lunch is just not very…alluring.
300
Something mysterious and feminine is forming in the tube. Beware the Asylum, Part III.
301
Brenda bicycles alone under an ominous sky to the asylum.
302
Billy and Nancy head out to the asylum in Billy's tricked-out van.
303
Mike and Pamela head out to the asylum on a motorcycle. Cool bike, Mike! Sandra and Charlie look almost as good in Charlie's 1972 Dodge Charger.
304
Down in a seclusions corridor, Billy gets zapped by a death ray, while Nancy is sucked up into the bowels of the asylum.
305
Zhelezor has grabbed Mike while Pamela fights not to be sucked up.
306
"Why is this room so clean," thinks Pamela to herself, not noticing her boyfriend Charlie being throttled behind her.
307
The machines grab and strip poor Sandra.
308
Red-eyed Zhelezor is in hot pursuit of Brenda in an asylum corridor.
309
Brenda finds what she thinks is safety when she passes through a doorway too small for Zhelezor the robot, but what is this light?
310
It's the spotlight Brenda. You're on stage, and your act is now beginning.
311
The mechanical grabbers go to work on the girls.
312
Nancy, Pamela, and Sandra are all forcibly washed.
313
Brenda stands, at once washed and martyred.
314
Pamela is whipped through the asylum's network of pneumatic tubes.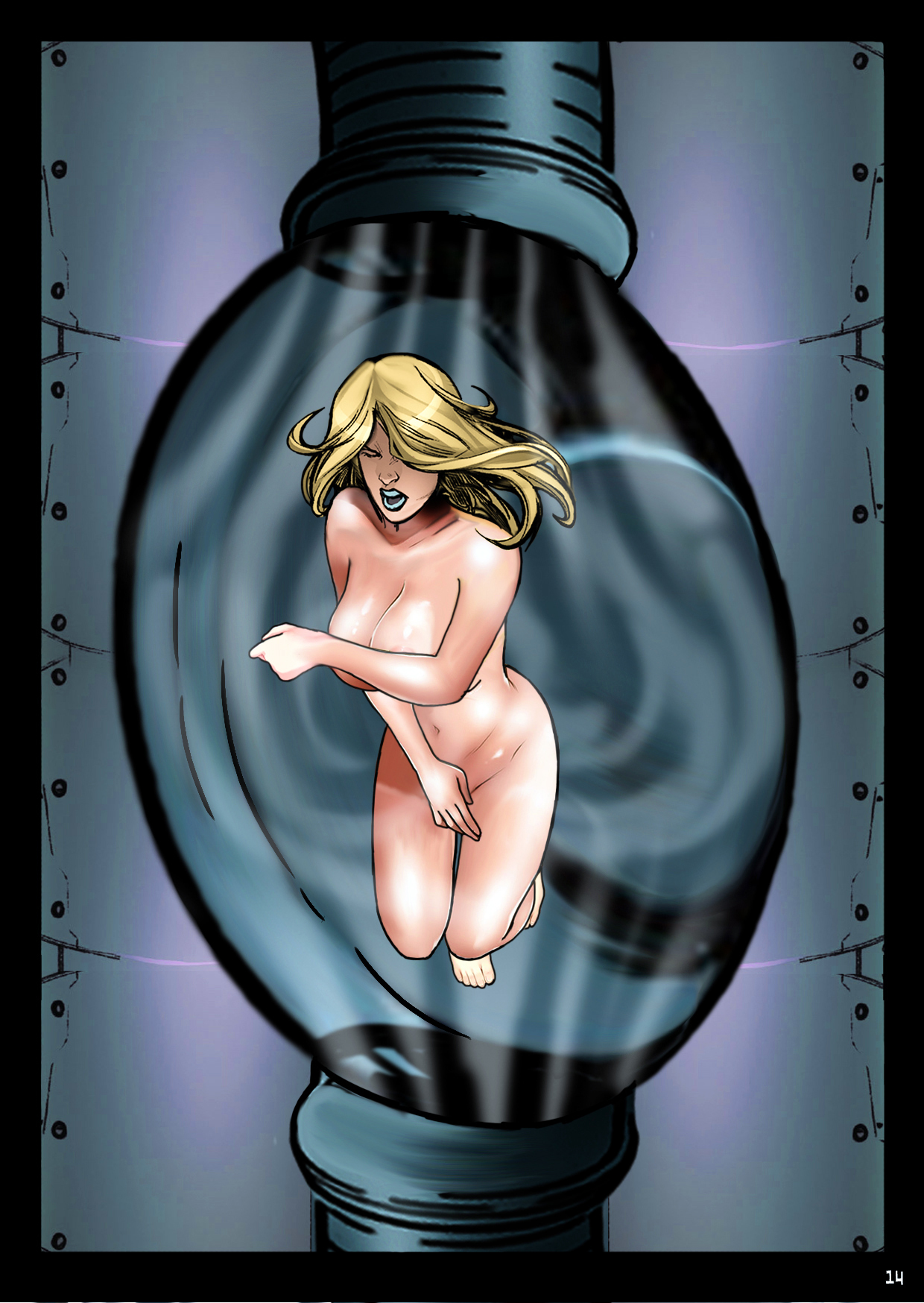 315
Nancy, Pamela, Sandra, and Brenda all reduced from girls to goo.
316
The community of Pleasant Valley is outraged by the disappearances of its children, and the police have no answers.
317
Dr. Vragov goes to work, processing green girl goo into a mysterious white unguent.
318
Outside the asylum, an alert motorcycle cop notes something special about the license plate on an abandoned van.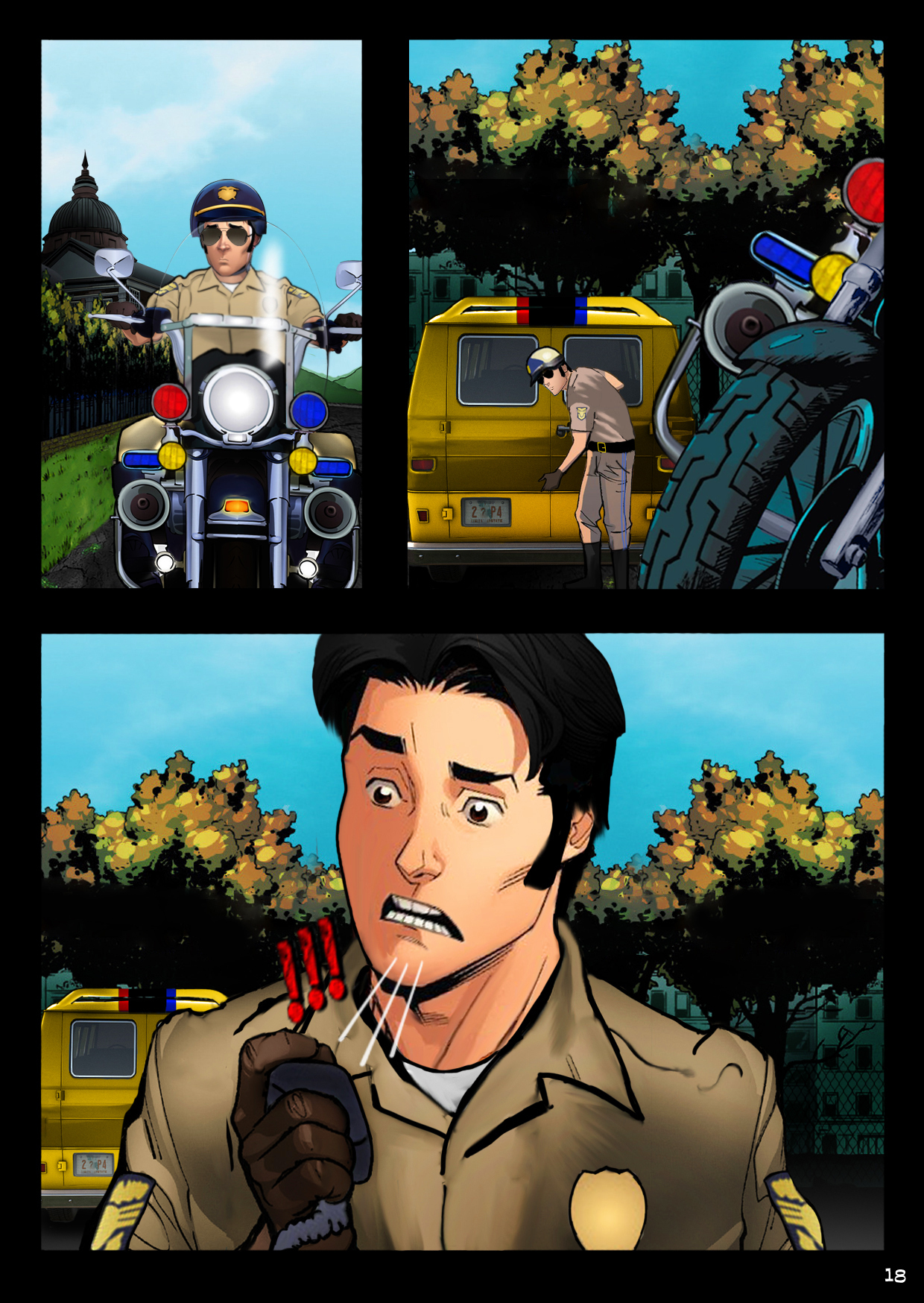 319
A police SWAT team musters and swings into action at the asylum.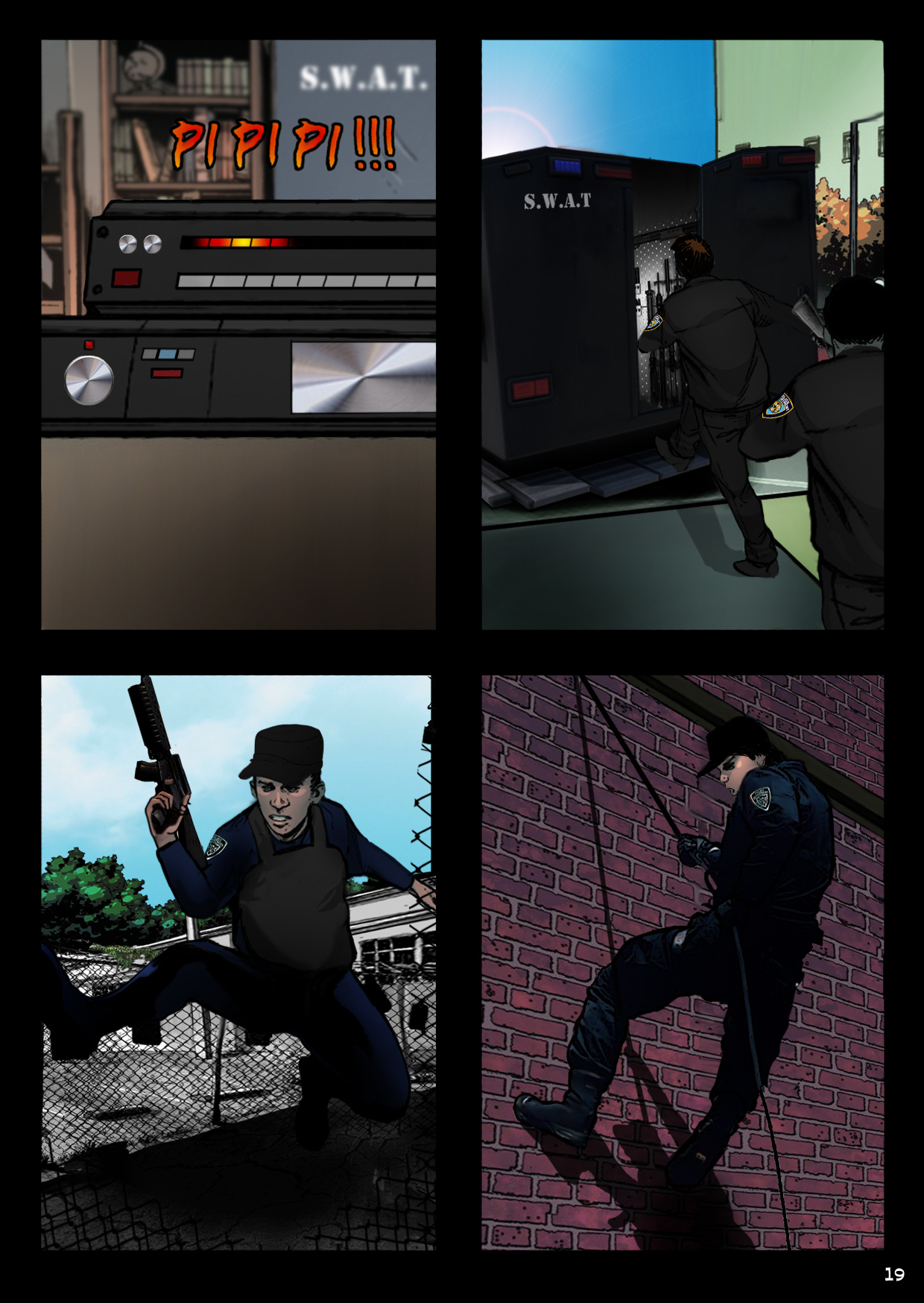 320
But the asylum is clean. There is nothing to be found, save a scrap of what once might have been a girl's dress.
321
In a posh club in London, Dr. Vragov and some wealthy business associates conclude a deal of cash for white unguent.
322
In a luxurious bathroom, a middle-aged woman applies some of the white unguent.
323
The white unguent dissolves, and the middle-aged woman in enveloped in bubbles.
324
Where there had been a woman in middle age before, there is now a radiantly beautiful younger woman.
325
On a bright morning outside a lovely Tuscan villa, Dr. Vragov enjoys a modest breakfast.
326
Dr. Vragov sips his coffee and enjoys the panorama of the city of Florence below.
327
Dr. Vragov produces a flask of green liquid, and takes it to his basement laboratory and performs feats of chemistry thereupon.
328
Dr. Vragov pours the processed liquid into a mysterious tube apparatus.
329
Within the tube there are at first bubbles, and then something womanly takes shape.
330
A naked catgirl, looking something like Karen once looked, steps forth from the tube.
331
Dr. Vragov bells his new catgirl and gives her some milk. She must be hungry!
332
A little catgirl fanservice.
333
Dr. Vragov's catgirl nestles on his lap. I can almost hear her purring.
This archive contains Beware the Asylum, a webcomic commissioned and written by Iago Faustus ("Faustus," a pseudonym) and illustrated by by Rafael Suzarte ("Suzarte"), as well as a sets of page captions written by Faustus and translated into various languages.
Both the images and the captions in this archive have been published under a Attribution-NonCommercial-ShareAlike 4.0 International license, details of which can be found at https://creativecommons.org/licenses/by-nc-sa/4.0/. Feel free to copy and circulate the archive all you like as long as you credit Faustus and Suzarte, but don't try to make money off the art, story, characters, or situations contained herein. Please keep in mind that the moral rights of the creators remain intact under this license.
Faustus is the owner of the images, captions, and translations thereof and can grant waivers to the Creative Commons license at his discretion. Faustus can be contacted via his main website https://eroticmadscience.com, at the e-mail addresses faustus@eroticmadscience.com and iago.faustus@gmail.com, or by voice at +1-347-460-3299.
Suzarte maintains a professional website at https://suzarte1.portfoliobox.net/, and can be contacted via this website