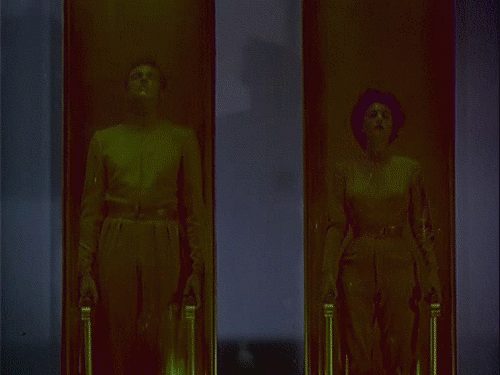 My original tumblr post was here. This image was researched by Bacchus at ErosBlog as part of the "Δ commission." The research was originally published at Hedonix as "Δ 045 X-Ray Tubes." Here is what Bacchus found.
The Tumblr post at the origin of this animation's Tumblr chain of provenance includes the following tags: "#1950s scifi #this island earth #1955 #joseph m newman". The reference is to the 1955 sci-fi movie This Island Earth, which was notable at the time for its special effects and for being filmed in Technicolor.

According to the plot summary at Wikipedia, the two protagonists are at one point menaced with being subjected to a "Thought Transference Chamber", which might be the chamber visible in the animation.

The attribution to This Island Earth is confirmed by the following scene from the trailer, which shows the same two people in the same sort of chambers, albeit with a menacing robot in this frame not directly seen (but visible as a shadow/silhouette) in the animation:

In 1996 the movie This Island Earth was heavily reworked (it's unclear from Wikipedia whether it was completely remade or whether it was heavily cut and intercut with new footage) and released to theaters as Mystery Science Theater 3000: The Movie. From the Wikipedia plot summary it seems unlikely that the animation stems specifically from the new MST3K movie footage, but I was unable to rule out the possibility.