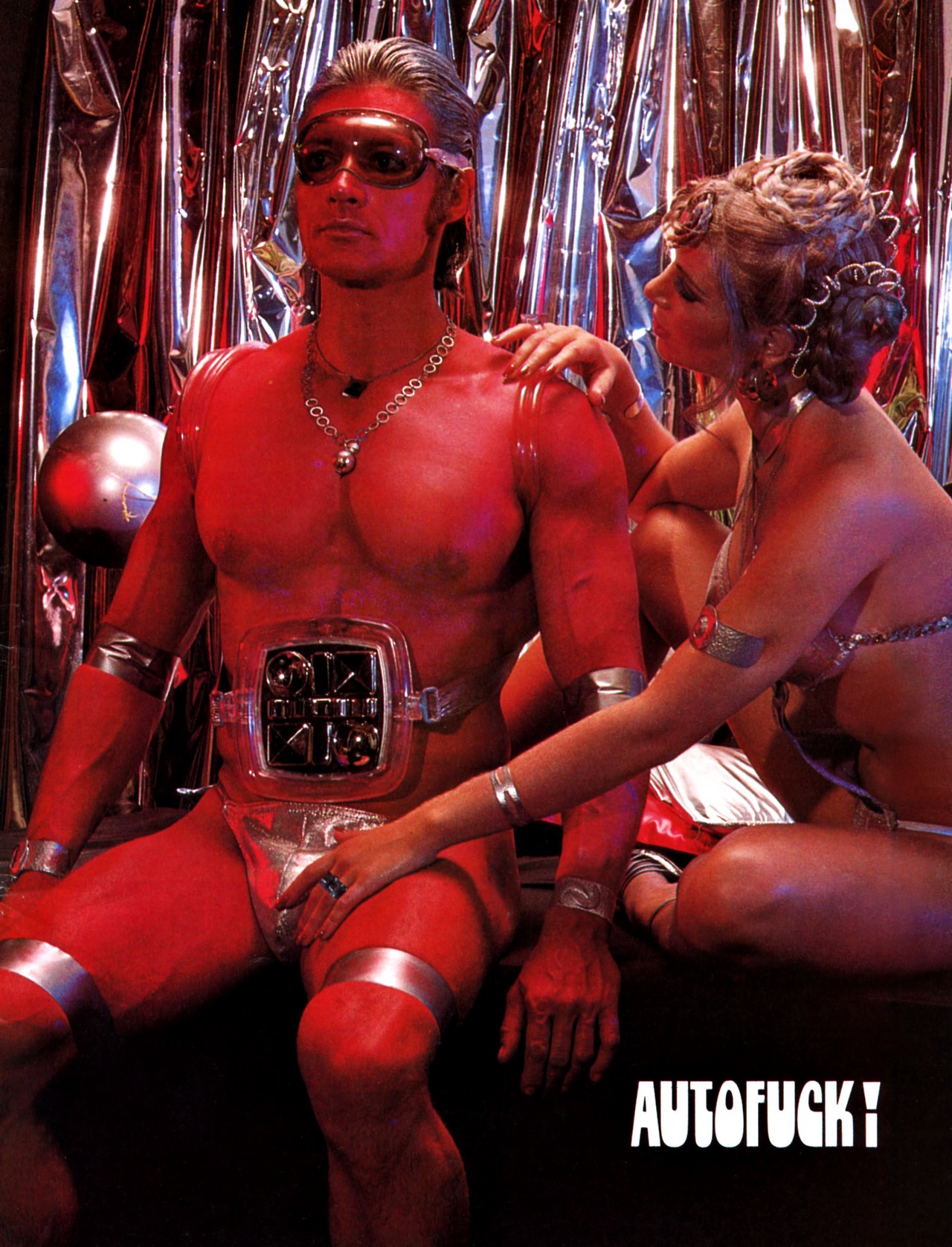 Original post here. This image was researched by Bacchus at ErosBlog as part of the "Γ commission." The research was originally published at Hedonix as "Γ 030 – Autofuck!. Here is what Bacchus found.
This image was posted to the 0/0 Tumblr in April 2014, and all subsequent Tumblr appearances source back to it. There are no tags or attribution. (This is surprising because virtually all other 0/0 posts are attributed.) The only discoverable earlier internet appearance is from 2013, on this Russian-language image-sharing site (Imgur-clone) where Mila from Krasnodar tagged it Эротика 70х, which is Russian for "1970s Erotica".

Looking at the image, I find myself in broad agreement with Mila in Krasnodar, although I think the date is likelier to be the early 1980s. The use of the Mylar space blanket as a background to indicate "science fiction scene" in particular strikes me as very early 1980s in style, and the overall campy appearance leads me to suspect a European publisher, although it's also visually reminiscent of Penthouse Publications in the era of Omni magazine. The fact that the image itself is perfectly G-Rated (despite the Autofuck! captioning) makes me question my first notion that this might have been a porn magazine cover; it seems more likely to be the first image in a porn photoset, or perhaps an illustration from a non-porn magazine with stricter standards for its visual imagery than for its text. It could even be a modern composition, although I doubt it; the cheap and garish costuming virtually screams of its dating to an era before Photoshop.

Keyword searches for "Autofuck!" were not illuminating. The phrase has been used in a variety of contexts and especially by a number of musical groups, but nothing associated with imagery of this sort was discovered.