As is so often the case, I've discovered that reality is pretty good at outrunning my imagination.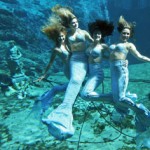 The "most unusual" restaurant in which Iris finds gainful employment was, as best I can recall, derived as a sort of X-rated version of the Weeki Watchee Mermaids, a phenomenon which I learned about by reading Jane and Michael Stern's engrossing and entertaining Encyclopedia of Bad Taste (a book which you just had to know Dr. Faustus would own).    At the time I was writing the scene, I congratulated myself on coming up with a very cool concept, thinking "I bet decadenet rich men would pay a lot to go to a bar with naked girls swimming around behind glass, no?"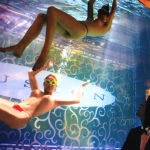 And then, as it happened, I was perusing another book in my extensive library by Joan Sinclair entitled Pink Box:  Inside Japan's Sex Clubs (a book you know that Dr. Faustus could surely not resist) and discovered…that there apparently there really are such things are mermaid bars.  The caption in the actual book to the thumbnail image on the left reads:  "Mermaid hostess bar Fusion, Tokyo.  Businessmen pay a ¥40,000 entrance fee to drink and watch foreign women swim in a tank at this exclusive hostess bar." (Click on the thumbnail to see a slightly larger image and many more as part of a flash presentation at the book's website.)
Sometimes I wonder how a hard-working pornographer is supposed to make a living.  But at least Sinclair's book doesn't suggest that the mermaid bar serves…well, seafood.