Script for today:
Page 7
A MARINE and a SERGEANT, a tough, professional-looking military pair, are standing in a corner of the factory floor. The Marine is wearing a look of fear and nausea. while the Sergeant staring forward, hollow-eyed.

MARINE: Oh no. Oh gawd no…they're going to uncover that thing again…no no no…

SEARGEANT: Steady, soldier. Get ahold of yourself….

The Marine has sunk to his knees and has burie3d his face in his hands. The Sergeant has his hands on the Soldier's shoulders, as if trying to comfort him.

MARINE: I'm sorry, sergeant. I just can't take this anymore. I'm putting in for a transfer back to Afghanistan…

A view inside a tank. What we see is something like a cross between an octopus and a human being. The head is shrunk back into the torso. The four human limbs have become somewhat tentacle-like, but there is some evidence of digits at the ends of them. Meanwhile, four other tentacles are sprouting from the merging head/torso. The eyes of this creature stare back at us pitifully…

CAPTION: Great Cthulhu…
Page 8
Edith is tuning into our point of view (motion captured in mid turn) . She is pointing angrily at the thing in the tank, which is dimly visible in the background.

EDITH (jagged balloon): What in hell are you doing here, Admiral?

Shackleford, backing away, his hands up in a placatory gesture.

SHACKLEFORD: Not us, Professor Sterling. This is something we found…

View of a young woman, dressed for club-going or some similar activity. She is being dragged into an alley by a shadowy figure who is holding a cloth over her face.

CAPTION (Shackleford speaking): It began as a law enforcement matter, investigating the disappearances of a number of local young women…

View of a "police detail" room (like the sort seen in The Wire). In the foreground DETECTIVE #1 is pinning something onto a bulletin board, while in the background, DETECTIVE #2 is listening to something over headphones.

CAPTION (Shackleford speaking): A special task force followed up leads, on the theory that they were dealing with either a white-slavery ring or maybe even a serial killer…
Page 9
A SWAT OFFCIER in full tactical gear is bashing in the side door to the factory with a hand-held battering ram.

CAPTION (Shackleford speaking): Surveillance and analysis eventually led them to this site. They came in prepared to face the worst..

The same Swat Officer holding aside a curtain, looking appalled. Another OFFICER is to his side, beginning to vomit.

CAPTION (Shackleford speaking): …but not for what they actually found.

A group of SWAT team members surrounding the prone, face-down form of DR. SIN. One is pointing his assault rifle at Sin's head.

CAPTION (Shackleford speaking): The laboratory was being run by a character who called himself Dr. Sin. He was captured…

Dr. Sin sitting in a padded room, wearing a straightjacket. He is staring blankly into space.

CAPTION (Shackleford speaking): But he refuses to say anything and indeed has become rather non-responsive since his arrest.
Not what the shocked Edith Sterling is looking at today, exactly, but an arresting image on theme: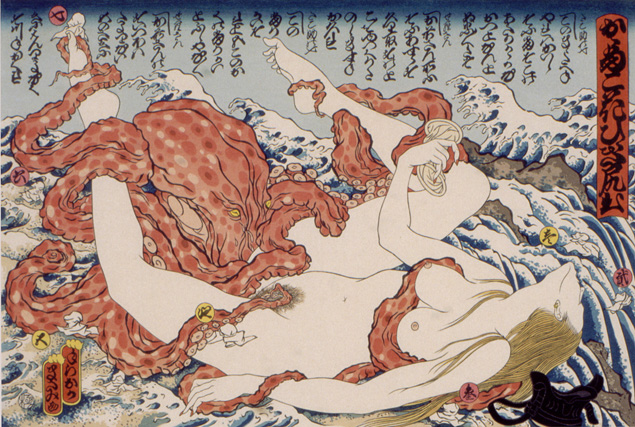 Done by the Japanese artist Masami Terokoa and found at this blog.  Or perhaps more on point, consider this image at Deviant Art by "venominon."