Original post here.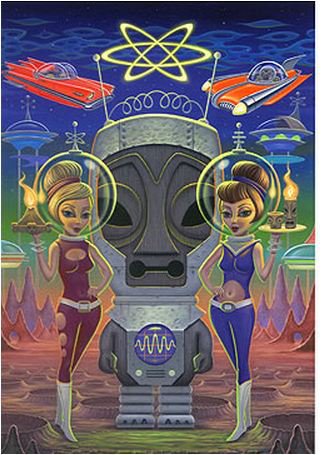 Sourced to Nothin But Trash. Original text:
Implausible space costume.
Bonus Image Provenance: I commissioned Bacchus at ErosBlog to research this image further, and he has come up with the following additional details.
Although I was unable to find a substantially higher-resolution version on the web, a slightly larger image exists at this closed eBay auction:

http://www.ebay.com/itm/Limited-edition-Tiki-artist-proof-by-a-collected-artist-Aaron-Marshall-/200926316319

The image is the artwork of Canadian artist Aaron Marshall, whose works "often feature a tiki theme" according to this website, which also offers some background info about the artist:

http://www.tikiroom.com/tikicentral/bb/viewtopic.php?topic=37601&forum=21

This art is called "Space Tiki Girls" at the Posterpop website where it's available as a signed print along with other works by the artist:

http://www.posterpop.com/aaron-marshall-space-tiki-girls-hand-signed-artist-print/
Bacchus is actively taking image research commissions, and if you have adult imagery you're curious to learn more about, I encourage you to place your commissions at this site.