Original post here.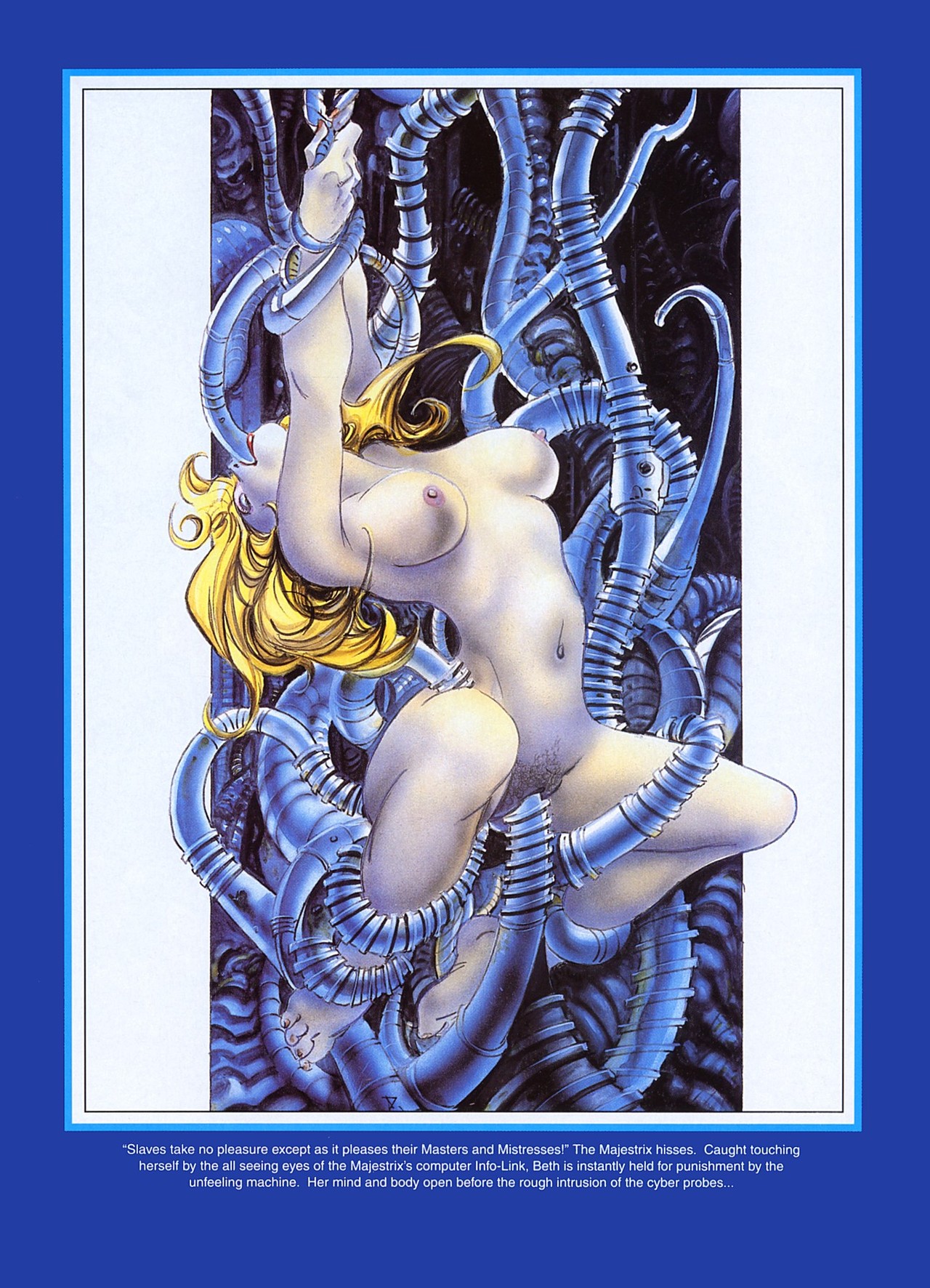 Sourced to Old Erotic Art.
Bonus Image Provenance: I commissioned Bacchus at ErosBlog to research this image further, and he has come up with the following additional details.
This search was an extra-easy one because I thought I recognized the artwork as the style of Azpiri, whose work used to appear in Penthouse Comix and Heavy Metal in the early 1990s. Sure enough, it's from "Book 3" of a series called Bethlehem Steele, which can be found (along with links to much other Azpiri art) in this high-quality web gallery:

http://zizki.com/comics/Alfonso+Azpiri/Bethlehem+Steele+Book+3/

It's unclear to me whether the Bethlehem Steele "books" were ever printed anywhere but in Penthouse Comix. A commenter at Bondage Blog says no:

http://www.bondageblog.com/2011/07/06/pony-girl-races/#comment-19096

Wikipedia's article on Azpiri seems to support that:

http://en.wikipedia.org/wiki/Alfonso_Azpiri

Here's a page with very-nicely-constructed galleries of many Azpiri titles, but unlike the Heavy Metal titles (which have official-looking covers) the "title pages" of the Bethlehem Steele stories appear to have been constructed (complete with headlines in the otherwise-implausible Comic Sans font) by the prolific and notorious comic scanner "Regdul":

http://fantasycomix.com/artist/1/Alfonso%20Azpiri

It's possible I'm wrong, but I think fan scans like these (or back issues of Penthouse Comix) would be the only place to obtain printed copies of the work.

Here's another link with a bit of information about the artist:

http://www.lambiek.net/artists/a/azpiri_a.htm

Your particular image was also featured on what looks like a promotional card for a line of Penthouse comix trading cards (and presumably, also appeared as such a trading card):

http://adulttradingcards.com/gallery/albums/libraries/penthouse/comix/normal_penthouse-comix-SWEET-TORTURE-BethSteele-PromoCard.jpg

The caption there says: "SWEET TORTURE: Caught touching herself by the all-seeing eye of the Majestrix's computer Info-Link, Beth is instantly held for punishment by the unfeeling machine. Her mind and body open before the rough intrusion of the cyber probes…"
Bacchus is actively taking image research commissions, and if you have adult imagery you're curious to learn more about, I encourage you to place your commissions atthis site.