Original post here.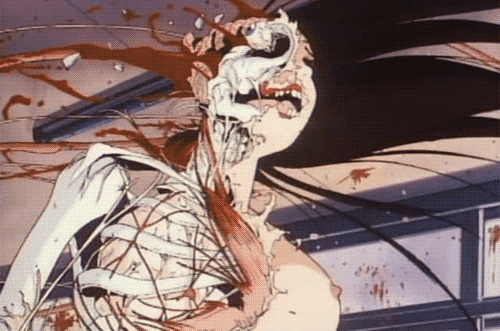 Sourced to transethnic japanese via suspectunknown.
Bonus Image Provenance: I commissioned Bacchus at ErosBlog to research this image further, and he has come up with the following additional details.
Hi! The earliest post in the tumblr stream for your image tagged it "battle royale high school", which is a one-off one-hour anime movie featuring a high school that becomes "a battleground for demon slaying samurai, interplanetary law enforcement" and "well-animated fight scenes":

http://www.animenewsnetwork.com/encyclopedia/anime.php?id=521>
http://en.wikipedia.org/wiki/Battle_Royal_High_School

My inital "confirmation" that your animated .gif is from this anime takes the form of two different "sauce request" (attribution request) threads archived from 4chan:

http://archive.foolz.us/wsg/thread/21410/
http://archive.foolz.us/a/thread/66017564/

(That latter thread also contains an exceptionally entertaining foul-mouthed all caps screaming rant and lesson on how to use Google's reverse image search.)

Armed with that, I found a copy of Battle Royale High School on Youtube. The reanimation sequence from which your .gif was made begins at about 47:56:

http://www.youtube.com/watch?v=Y0Cu1kaFA5Q

At least one copy of the anime is available via Amazon as well:

http://www.amazon.com/gp/product/6304060645/ref=as_li_ss_tl?ie=UTF8&camp=1789&creative=390957&creativeASIN=6304060645&linkCode=as2&tag=longgoneenterpri
Bacchus is actively taking image research commissions, and if you have adult imagery you're curious to learn more about, I encourage you to visit Bacchus's introductory post for his image-searching service, where you can find details about how to commission him.