Original post here.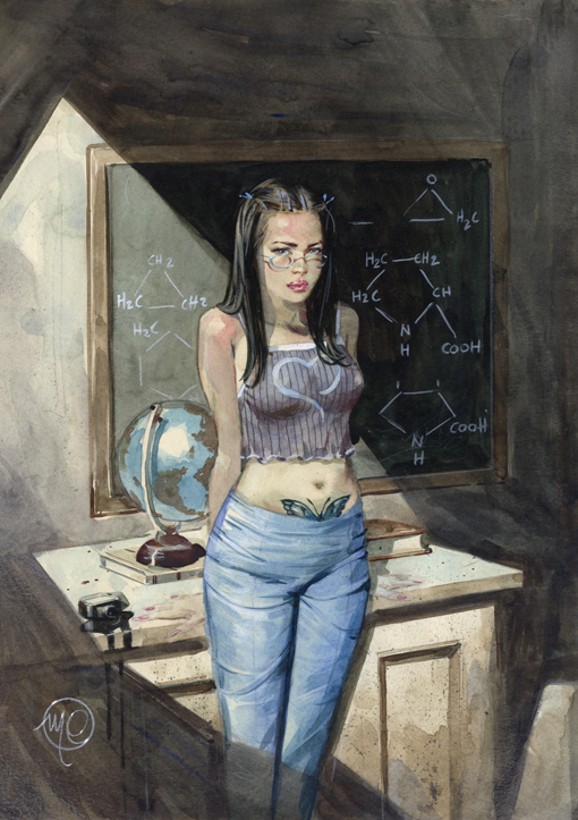 Sourced to Old Erotic Art.
Bonus image provenance by Bacchus:
Your image is the cover art for an Italian Fumetti magazine called Skorpio:

http://www.alessandrodistribuzioni.it/en/italian-comics-eura-editoriale-skorpio-anno-24-skorpio-anno-24-4-45253000040.html

That page identifies the cover artist as Massimo Carnevale, which matches the artist signature on your image (an "MC" in a circle). Massimo Carnevale is a prolific Italian cover illustrator. Comics Vine's entry on him is here:

http://www.comicvine.com/massimo-carnevale/4040-28082/

There is more artist information (in Italian) here:

http://it.wikipedia.org/wiki/Massimo_Carnevale

Another small collection of cover art by him (including your image) can be found here:

http://illustrateurs.blogspot.com/2009/11/carnevale-massimo.html?zx=9d8152c21a27f90e
Bacchus is actively taking image research commissions, and if you have adult imagery you're curious to learn more about, I encourage you to visit Bacchus's introductory post for his image-searching service, where you can find details about how to commission him.