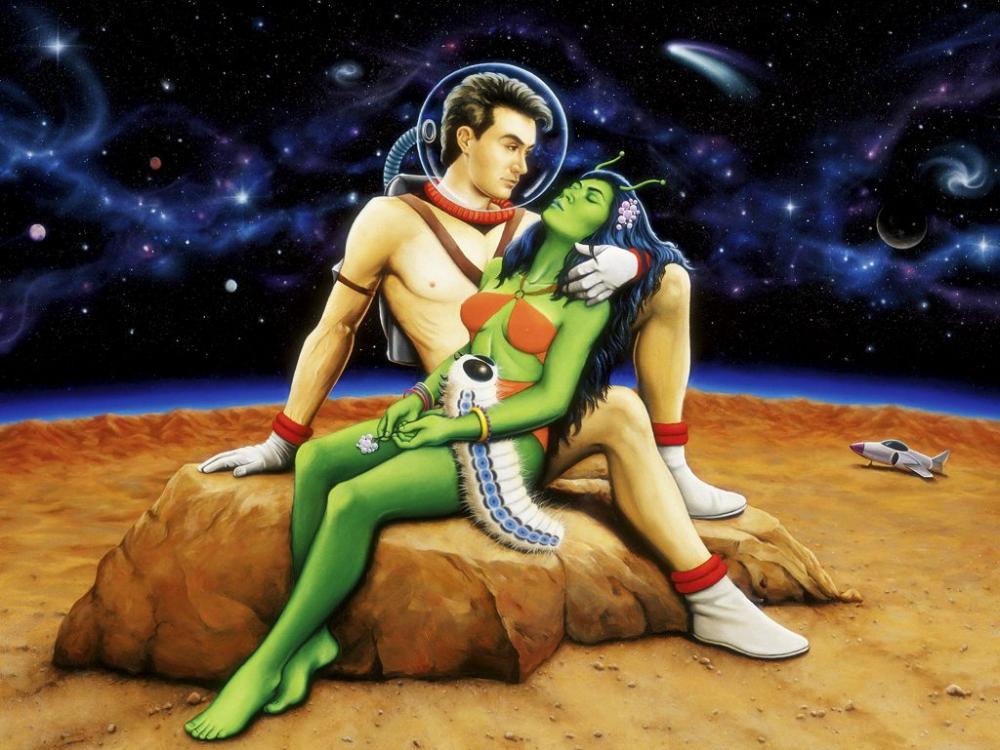 Original post here. This image was researched by Bacchus at ErosBlog as part of the "Γ commission." The research was originally published at Hedonix as "Γ 042 – Naked Dave Stevens." Here is what Bacchus found.
This artwork is called "Amor Alien" and it is by artist, musician, and self-published comic book author Laura Molina. It appears as the seventh image in an unlinkable flash gallery on NakedDave.com, which is the web installation of the artist's Naked Dave series. Wikipedia describes the work as:

…a series of paintings created by Laura Molina, inspired by her relationship with illustrator and Rocketeer creator, Dave Stevens. A five-month long relationship between the artists ended in early December, 1978 after she miscarried their child at eleven weeks. Molina started the series in 1993 after an attempted reconciliation initiated by Stevens failed to settle things between them.

That Wikipedia entry also quotes an interesting statement by the artist that's sourced to the NakedDave.com website, but which is not currently to be found there:

There's something I've realized about why these paintings make people so uncomfortable. Dave Stevens is a "male muse", and an unwilling one at that. The traditional gender roles have been reversed. This upsets the order of things. Women are not supposed to have my technical skill or use it to toy with and objectify a male subject. I do this for the same reason that Dave and other male artists continue to paint and draw naked women….Because I can.