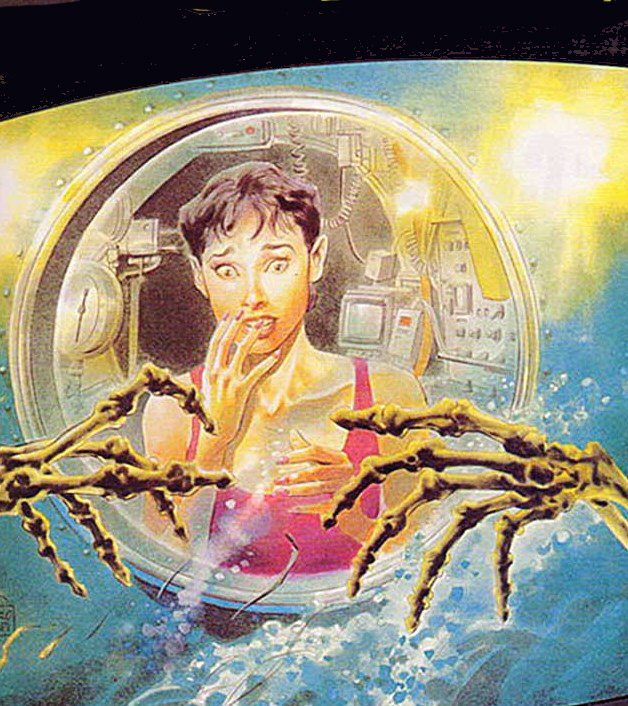 My original tumblr post was here. This image was researched by Bacchus at ErosBlog as part of the "Δ commission." The research was originally published at Hedonix as "Δ 060 – Skeletal Space Hands." Here is what Bacchus found.
This image is cropped from the cover of issue #15 (December 1, 1999) of the Italian comic book series Julia: Le Avventure Di Una Criminaloga:

Wikipedia describes Julia thusly:

Julia is an Italian comic book series created by Giancarlo Berardi and edited by Sergio Bonelli Editore. The protagonist, Julia Kendall, is a criminologist, and the stories are usually in the crime fiction genre. The comic series was created in 1998 by Berardi and it was born of Sergio Bonelli Editore's wish for a purely detective series.

Julia Kendall's character is physically inspired by Audrey Hepburn, one of Berardi's favorite actresses. Choosing a female protagonist — an ordinary, easily relatable woman — had the series have a large following of woman readers, unusual for a crime fiction comic.

ComicVine credits this particular cover artwork to artist Marco Soldi. Lambiek Comiclopedia offers this brief bio of Soldi:

Marco Soldi began his career at the publishing house Lancio in the early 1980s. In 1986, he became a cover artist for the monthly Splatter. In 1993, he joined Bonelli publishers, where he started out doing a 'Dylan Dog' episode. He also cooperated with Granate Press and the publishing house Universo. He then returned to Bonelli, illustrating episodes and covers of the series 'Julia'.