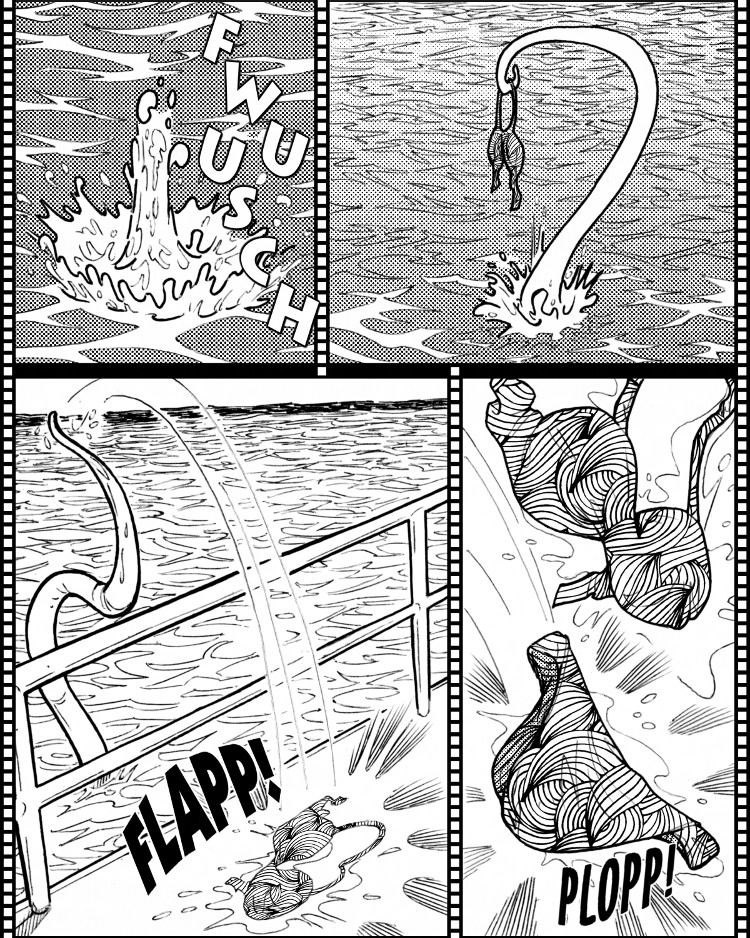 This work is licensed under a Creative Commons Attribution-NonCommercial-ShareAlike 4.0 International License.
PAGE 19 (Four panels)
(Note: footage)
Panel 1: Another, smaller column of water on the surface of the sea as Phoebe is jerked back underwater.
SFX – SUBMERGING (1): Fwoosh!
Translation (1): Fwuusch!
Panel 2: A tentacle has emerged above the same surface of the water as in Panel 1. It is swinging around Phoebe's bikini top, which the beast below has presumable stripped off her. (Indicate with motion lines.)
Panel 3: A spot on the deck of the Yellow Rose, close-up. Phoebe's bikini top landing on the deck, presumably tossed there by the beast below
.
SFX – WET BIKINI TOP LANDING ON DECK (2): Splut!
Translation (2): Flapp!
Panel 4: Same as Panel 2, but now it's the bikini bottom landing next to the top.
SFX – WET BIKINI BOTTOM LANDING (3): Plop!
Translation (3): Plopp!

Köder (Deutsch/Langseitige Version)
Köder (Deutsch/Dia-Version)