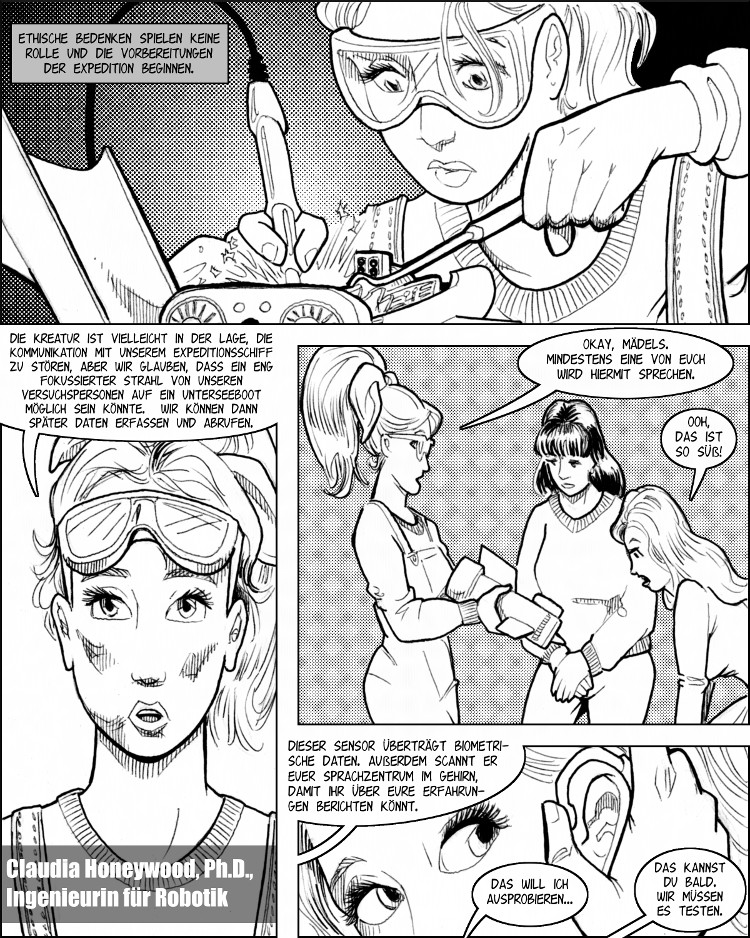 This work is licensed under a Creative Commons Attribution-NonCommercial-ShareAlike 4.0 International License.
PAGE 36 (Four panels)
Panel 1: Claudia, in coveralls and wearing goggles, sitting at a high-tech workbench making adjustments to a tiny (about the size of a toaster) submersible drone.
CAPTION – PSEUDO-NARRATION (1): Ethical objections aside, preparations for an expedition are laid in.
Translation (1): Ethische Bedenken spielen keine Rolle und die Vorbereitungen der Expedition beginnen.
Panel 2: Claudia now being interviewed in the lab. She has pushed her goggles up on her forehead, and her face has some sooty smudges on it.
SUBTITLE (2): Claudia Honeywood, Ph.D., Project Robotics Engineer.
Translation (2): Dr. Claudia Honeywood, Ingenieurin für Robotik
Claudia (3): The creature will probably be able to block communications with our expedition ship, but we think a tightly focused beam from our subjects to a submersible might be possible. We can capture and retrieve data from it later.
Translation (3): Die Kreatur ist vielleicht in der Lage, die Kommunikation mit unserem Expeditionsschiff zu stören, aber wir glauben, dass ein eng fokussierter Strahl von unseren Versuchspersonen auf ein Unterseeboot möglich sein könnte. Wir können dann später Daten erfassen und abrufen.
Panel 3: A somewhat cleaned-up Claudia showing the submersible to Daphne and Eliza. Daphne seems interested, Eliza almost enchanted.
Claudia (4): Okay, ladies. So, one of you at least is going to be talking to this.
Translation (4): Okay, Mädels. Mindestens eine von euch wird hiermit sprechen.
Eliza (5): Ooh, it's so cute!
Translation (5): Ooh, das ist so süß!
Panel 4: Claudia fitting something behind Eliza's ear.
Claudia (6): This sensor will transmit biometrics. It will also scan your brain's speech center and allow you to provide some narration of your experiences.
Translation (6): Dieser Sensor überträgt biometrische Daten. Außerdem scannt er euer Sprachzentrum im Gehirn, damit ihr über eure Erfahrungen berichten könnt.
Eliza (7): I really want to try that…
Translation (7): Das will ich ausprobieren…
Claudia (8): You will. We need testing.
Translation (8): Das kannst du bald. Wir müssen es testen.

Köder (Deutsch/Langseitige Version)
Köder (Deutsch/Dia-Version)