John Cleese remarked on an early influence: "We all loved The Goon Show in the Monty Python Team: it ignited some energy in us. It was more a spirit that was passed on, rather than any particular technique. The point is that once somebody has crossed a barrier and done something that has never been done before, it is terribly easy for everybody else to cross it."
It sure crossed my barriers, and early on and in a way that ended up impinging on my own erotic consciousness decades later — showing up in the Apsinthion Protocol.
As it happens, The Goon Show (BBC show site here, U.S. fan site here, UK fan site here) was something which, by there merest chance, I had the good luck (?) to encounter in my own early adolescence. For no obvious reason, this 1950s absurdist British radio comedy was rebroadcast every week on a public radio station that I could just…barely…pick up, and I was hooked by it from the first time I heard an episode. Written by Spike Milligan, and acted largely by him, Peter Sellars, and Harry Secombe, it conjured up a fictional universe from which logic was ejected with such vigor that it made the Marx Brothers look like Betrand Russell.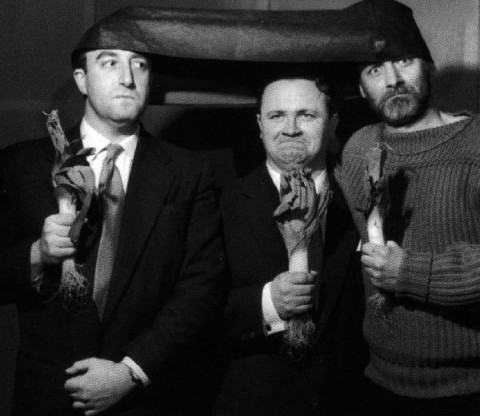 Needless to say, they really were a central influence. I remember quite a lot of scenes, but the one that seems most apropos here was one right in the theme of "person in liquid form."
A little quick background: the most common plot of a Goon Show involved some plan by a pair of impoverished aristocratic grifters named Hercules Grytpype-Thinne (voiced by Sellars) and Count Jim Moriarty (voiced by Milligan) to take advantage of the good-natured but surpassingly naive Neddie Seagoon (voiced by Secombe). In the episode "The Childe Harolde Rewarde," which first aired on December 8, 1958, 37 year-old Neddie escapes from his decrepit and infantilizing parents Henry Crun and Minnie Bannister. Henry and Minnie offer a reward for his return, priced a 4 shillings a pound for their 16-stone child (!). Hearing this, Grytpype-Thinne and Moriarity engage in a convoluted scheme that involves stuffing Neddie with vast amounts of food (paging Molly Ren!) in order to claim a larger reward.
Things don't work out quite as planned, as the transcript (mine is a hybrid of this one and this other one) shows.
Grytpype-Thynne
Here, Auntie Min, your child Harold. 613 stone at 4 shillings a pound equals, ah, skeltonfrunderklee pounds reward.
Bannister
He's a fake, my boy only weighs 16 stone.
Grytpype-Thynne
Well, we shall reduce him. Into the steam bath with him, Moriarty!
Moriarty
Ah!
Seagoon
Oh, please, stop [screams]
Grytpype-Thynne
Get the steam on his knees, Moriarty! [laughs] That's it. Look at that stomach vanish, Moriarty!
Seagoon screams.
Moriarty
That's got him down, bring him down.
Seagoon
Oh, please, stop! I'm vaporizing with the heat! You can't do this to me, I'm, I'm the King of 23 Pond Street! I'll have you arrested by the royal policeman! [speeds up to inaudibility] My mother keeps a duck-farm in Kent! [screams, winds down]
Moriarty
Ah, he's vaporized now, into this bottle with him. There!
Pop!
moriarty
Now, to the Palladium!
The scene: Harry Secombe's dressing room.
Dance hall music, knock on door.
Agent
You want an autograph?
Eccles
Yeah, autographs.
Agent
In that cue over there, sonny.
Cash register
(arriving from a distance)
…dressing room
It's hot in here.
Eccles
Yeah, like a drink from my bottle of water?
Bluebottle
No, thanks, Eccles. I'm training to be a desert.
Eccles
Oh.
Moriarty
Hands up, everybody! Drop everything!
Grytpype-Thynne
Yes! Now, listen, Secombe fans, this bottle contains your favorite singer in liquid form!
Secombe
(muffled through rest of show)
Hello, folks, don't let me down!
Grytpype-Thynne
(aside)
Put a cork on it, Moriarty!
Pop!
Secombe
Oh!
Grytpype-Thynne
Now, we want 1,000 pounds, or we drink him!
Secombe
Don't let him drink me, folks, I shall hate traveling by tube!
Agent
All right, all right, I'll pay!
Clatter of money falling.
Agent
There, 1,000 pounds in big NAAFI spoon.
Two escaping whooshes
Agent
Harry! Harry! Speak to me! Say something, Harry!
Secombe
Help!
Agent
Hold this bottle while I get a doctor.
Eccles
Okay. [hums]
Bluebottle
Eccles, don't get them bottles mixed up, Eccles.
Eccles
Oh?
Secombe
Can you see what's coming, folks? If so, well, don't spoil it for me!
Bagpipes and singing Scotsmen.
Eccles
Hello, doctor
Doc
Have no fear. This is the patient here, is it, aye?
pouring sound, more Scottish noises, bagpipes.
Doc
Aye, this is a genuine vintage Secombe and it tastes very ill.
Eccles laughs
Doc
What are you laughing at, what are you laughing at there?
Eccles
Well, I was just ready to in case anybody said something funny.
The Doc mumbles.
Secombe
Hurry up, I'm catching me death of cold in here. Me shiverings have gone to the bottom!
Eccles
Oh!
Doc
We've got no time to waste. The only way to restore Mr. Secombe to his normal self is to bring this to the boil, add a pound of leeks…
Water boiling.
Doc
Goats milk, a touch of sospan fach, my doons a spoon a world and…
Secombe
What about some brandy?
Doc
Steady Secombe, steady Secombe, I'm just going to add this bust of Sabrina to bring you to the boil.
(I cannot resist an editorial interruption at this point, since this last joke might be a little bit obscure to anyone not a Gooniac. Sabrina (Norma Ann Sykes) was an actress and model often referenced on the Goons.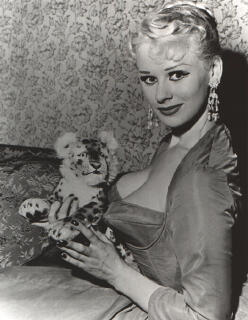 The concepts both of "bust" and "bringing to a boil" seem readily applicable here. For those of you who like this sort of thing, there's a whole site dedicated to Sabrina here.
We now return to our regularly-scheduled transcript. Thank you.)
Doc
That's strange, nothing's happening.
Eccles
Oh, I, I gave you the wrong bottle!
Doc
What, what, what? The other one then, hurry, it's the payoff! Hurry.
Eccles
I… I drank it.
Doc
Say `ah'.
Eccles
Ah.
Secombe
(screams)
He's had onions for tea!
Doc
Bring the stomach pump.
Eccles:
Oh no! [inaudible]
Greenslade
Ladies and Gentlemen, in the interests of hygiene, we end this show. Good night, all.
Eccles
Aoooh!
We're supposed, of course, to be laughing at all the absurdity of it all, but I confess at the time the concept of being turned into a liquid — by a deliberate and even industrial-sounding process, set off a twinge of erotic feeling. I mean, maybe it was the proximity of the "bust of Sabrina" to the concept that did it, except that I don't think I knew back then who Sabrina was. In any event, there's a line of influence here to what I would write decades later, I feel sure…