P.Z. Myers over at Pharyngula and Jerry Coyne at Whyevolutionistrue both have fine weekend traditions of coming up with pictures of exotic fauna to brighten up everyone's weekends, and I couldn't be happier than to follow in such illustrious footsteps, at least occasionally.
So for those of you who care about such things (which I am sure is all of you), the little spider that jumps on Cleo and so terrifies her is a member of a real species, Telamonia dimidiata, and she certainly is a pretty one (the spider, I mean, though certainly Cleo is too):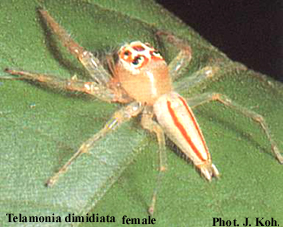 I picked this species in part precisely because the female is so pretty, but also because it was the subject of an enteratining e-mail hoax a while back about its crawling out from under public restrooms in Florida and fatally biting people.  Status of the myth:  false, as this discussion at snopes.com show.  Still, good as the sort of thing out of which fiction can be made.