I'm not sure this has all that much to do with anything, but I spotted it today and just had to post it.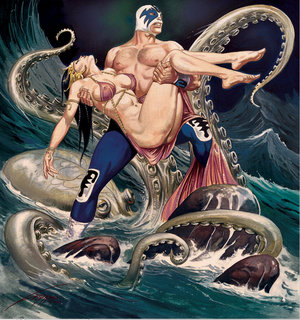 The link (click through for larger image) indicates that it is "Master of the Seas," by RAFAELGALLUR.  The male figure reminds me of Santo (the masked Mexican wrestler-hero, not El Santo, the awesome movie reviewer, though the latter would be cool).
I guess there could be a Gnosis College link, although it isn't obvious yet.  I have recently started work on a story that involves the adventures of Edith Sterling, a teuthologist at Gnosis who's having trouble getting tenure…so there's a definite octopus linkage going on.  But that's a story for another time.
Hat tip on this one to PZ Myers at Pharyngula.