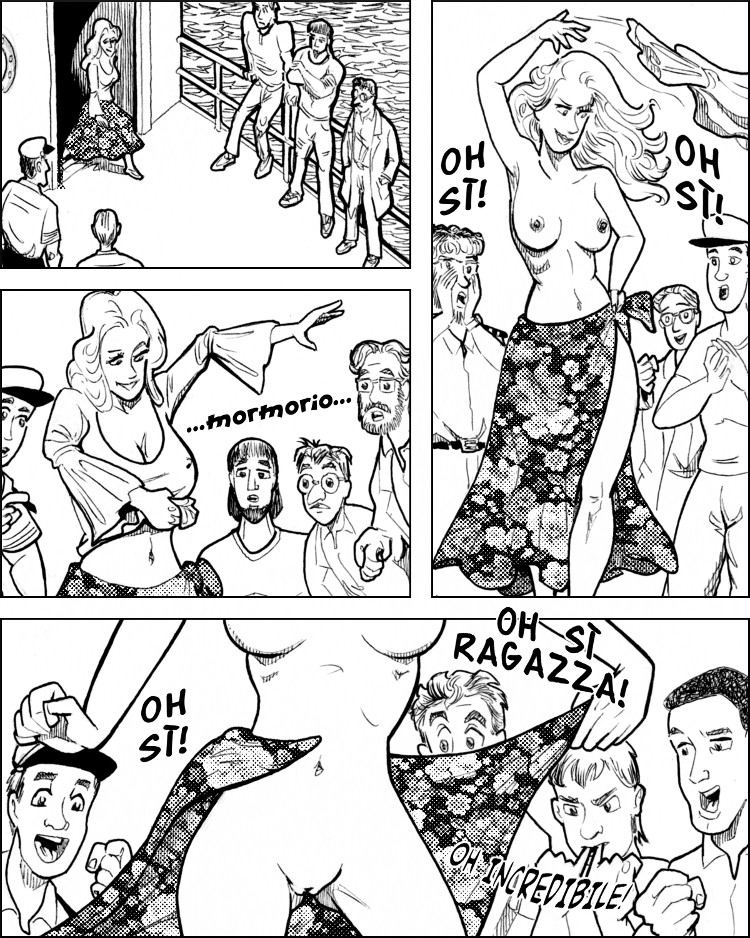 This work is licensed under a Creative Commons Attribution-NonCommercial-ShareAlike 4.0 International License.
PAGE 48 (Four panels)
Panel 1: View down the deck. A bunch of men, sailors and science guys, are lined up a few feet from the rail, leaving a path between themselves and the rail for Eliza to walk along. Eliza is emerging up onto deck from a gangway to below decks, just coming into view in the panel.
Panel 2: Same view as in Panel 1, Eliza walking down the deck toward the viewer of the panel, past the lined-up men, still a bit distant from the P.O.V. of the viewer.
Panel 3: Eliza, a bit closer to thew viewer of the Panel, in the act of lifting off her cotton shirt (which, at the discretion of the artist, can read GNOSIS COLLEGE), exposing her breasts. This elicits a reaction of mounting excitement from the men lined up. The lifting-off of Eliza's shirt shows that she wasn't wearing any bra.
SFX – EXCITEMENT AMONG THE CREW (1): …murmuring…
Translation (1): …mormorio…
Panel 4: Eliza, now quite close to the viewer of the panel, in the act of whipping off her skirt, which reveals that she wasn't wearing any panties either. The men around her are reacting quite excited by now.
SFX – MORE MALE VOCAL EXCITEMENT (2): OH YEAH OH YEAH BABY OH AWESOME OH YEAH!
Translation (2): OH SÌ OH SÌ RAGAZZA OH INCREDIBILE OH SÌ!

Esca (Italiano/Versione a pagina lunga)
Esca (Italiano/Versione con slider)