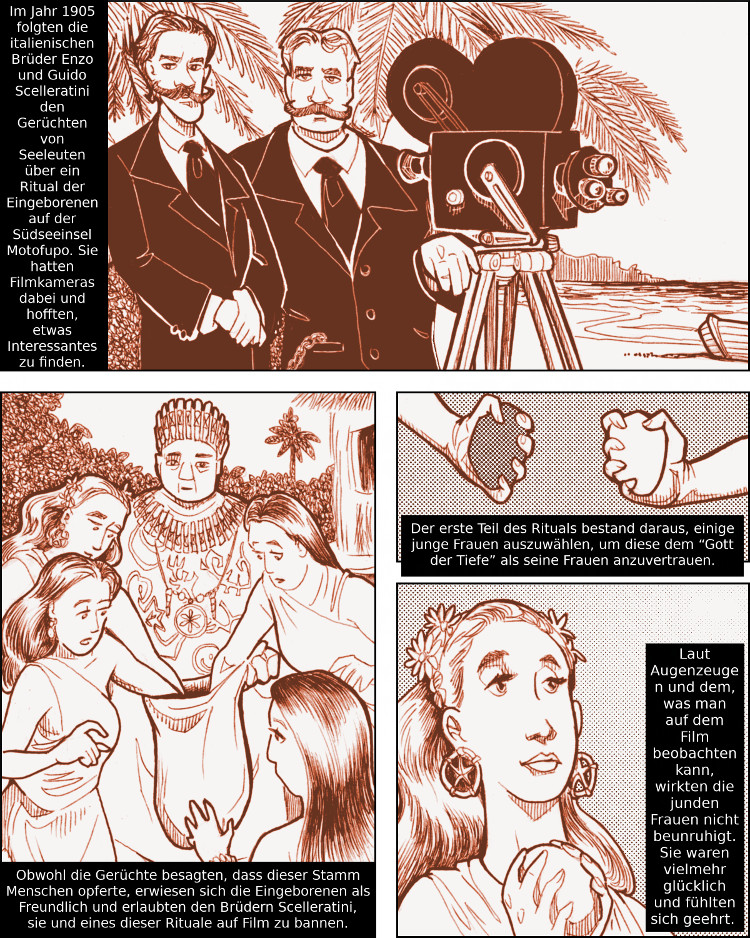 This work is licensed under a Creative Commons Attribution-NonCommercial-ShareAlike 4.0 International License.
PAGE 4 (Four panels)
(Note: The panels on this page should be sepia-toned, a visual indicator of the age of the photographic and cinematic material they are meant to represent.)
Panel 1: Two Italian men, ENZO SCELLERATINI ("Enzo") and GUIDO SCELLERATINI ("Guido") absurdly overdressed for their environment stand in coats, bow-ties, and bowler hats, posed on a beach with an old-fashioned, crank-operated movie camera. (Note: Both men have somewhat silly handlebar mustaches.)
CAPTION – PSEUDO-NARRATION (1): In 1905, Italian brothers Enzo and Guido Scelleratini, following up on sailors' rumors of a strange native cult on the South Seas island of Motofupo, went there with a movie camera in hopes of finding something unusual.
Translation (1): Im Jahr 1905 folgten die italienischen Brüder Enzo und Guido Scelleratini den Gerüchten von Seeleuten über ein Ritual der Eingeborenen auf der Südseeinsel Motofupo. Sie hatten Filmkameras dabei und hofften, etwas Interessantes zu finden.
Panel 2: A group of attractive young Polynesian-looking women dressed in muumuuu-like garments reaching into a sack together to draw something out.
CAPTION – PSEUDO-NARRATION (2): In spite of the fact that their rituals were rumored to include human sacrifice, the indigenous people proved friendly and allowed the Scelleratini brothers to film them and one of those very rituals.
Translation (2): Obwohl die Gerüchte besagten, dass dieser Stamm Menschen opferte, erwiesen sich die Eingeborenen als Freundlich und erlaubten den Brüdern Scelleratini, sie und eines dieser Rituale auf Film zu bannen.
Panel 3: Close up of two hands of different young women in the panel. One holds a white stone, another a black stone.
CAPTION – PSEUDO-NARRATION (3): The first part of the ritual was a selection process to pick specific young women to be given to a "God of the Deeps" in marriage.
Translation (3): Der erste Teil des Rituals bestand daraus, einige junge Frauen auszuwählen, um diese dem "Gott der Tiefe" als seine Frauen anzuvertrauen.
Panel 4: One young woman of the Motofupo people ("the Bride"), cradling a stone, a beatific expression.
CAPTION – PSEUDO-NARRATION (4): According to observers and apparent on the film was that the young women so selected did not seem distressed. They instead seemed pleased and honored.
Translation (4): Laut Augenzeugen und dem, was man auf dem Film beobachten kann, wirkten die junden Frauen nicht beunruhigt. Sie waren vielmehr glücklich und fühlten sich geehrt.

Köder (Deutsch/Langseitige Version)
Köder (Deutsch/Dia-Version)