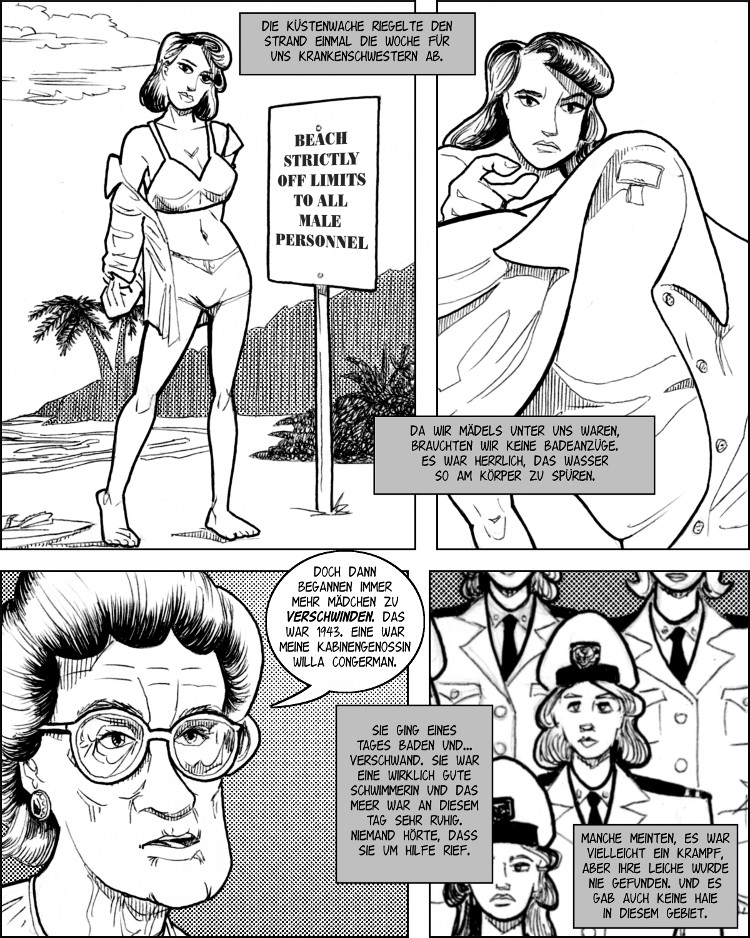 This work is licensed under a Creative Commons Attribution-NonCommercial-ShareAlike 4.0 International License.
PAGE 13 (Four panels)
Panel 1: A pretty Navy nurse in the act of taking off her uniform shirt, exposing her brassiere. She is standing on the beach next to a sign which reads BEACH STRICTLY OFF LIMITS TO ALL MALE PERSONNEL.
CAPTION – HAZEL NARRATING (1): The Shore Patrol would close the beach off once a week just for us nurses.
Comment (1): The "Shore Patrol" (SP) are an internal police force for the United States Navy, roughly equivalent to the military police in an army.
Translation (1): Die Küstenwache riegelte den Strand einmal die Woche für uns Krankenschwestern ab.
Panel 2: The shirt of the nurse in Panel 1 flying toward the viewer. The panel should imply that it is part of a movie being filmed and that Panel 1 was an earlier frame in the same, but the nurse has noticed that she was being filmed an, in chagrin, has tossed her shirt at the camera lens, which it is about to cover.
CAPTION – HAZEL NARRATING (2): Since it was only us girls, we didn't bother putting on bathing suits. It was wonderful to be out in the water like that.
Translation (2): Da wir Mädels unter uns waren, brauchten wir keine Badeanzüge. Es war herrlich, das Wasser so am Körper zu spüren.
Panel 3: Another interview shot of Hazel, whose expression has darkened a bit over that in Panel 1.
Hazel (3): But then the disappearances began. This was in 1943. One of them was my cabinmate, Willa Congerman.
Translation (3): Doch dann begannen immer mehr Mädchen zu verschwinden. Das war 1943. Eine war meine Kabinengenossin Willa Congerman.
Panel 4: Head-and-shoulders shot of WILLA CONGERMAN ("Willa") in the dress uniform of a Navy nurse (shoulder epaulets indicating that she has has the rank of Ensign). If possible it should be taken as a detail from Page 10, Panel 1 above.
CAPTION – HAZEL NARRATING (4): She just went swimming one day and…disappeared. She was a really strong swimmer, and it was a perfectly calm day with no tides. No one heard her call in distress.
Translation (4):Sie ging eines Tages baden und…verschwand. Sie war eine wirklich gute Schwimmerin und das Meer war an diesem Tag sehr ruhig. Niemand hörte, dass sie um Hilfe rief.
CAPTION – HAZEL NARRATING (5): Some said it might have been a cramp, but no one ever found a body. And there weren't any sharks in the area.
Translation (5): Manche meinten, es war vielleicht ein Krampf, aber ihre Leiche wurde nie gefunden. Und es gab auch keine Haie in diesem Gebiet.

Köder (Deutsch/Langseitige Version)
Köder (Deutsch/Dia-Version)