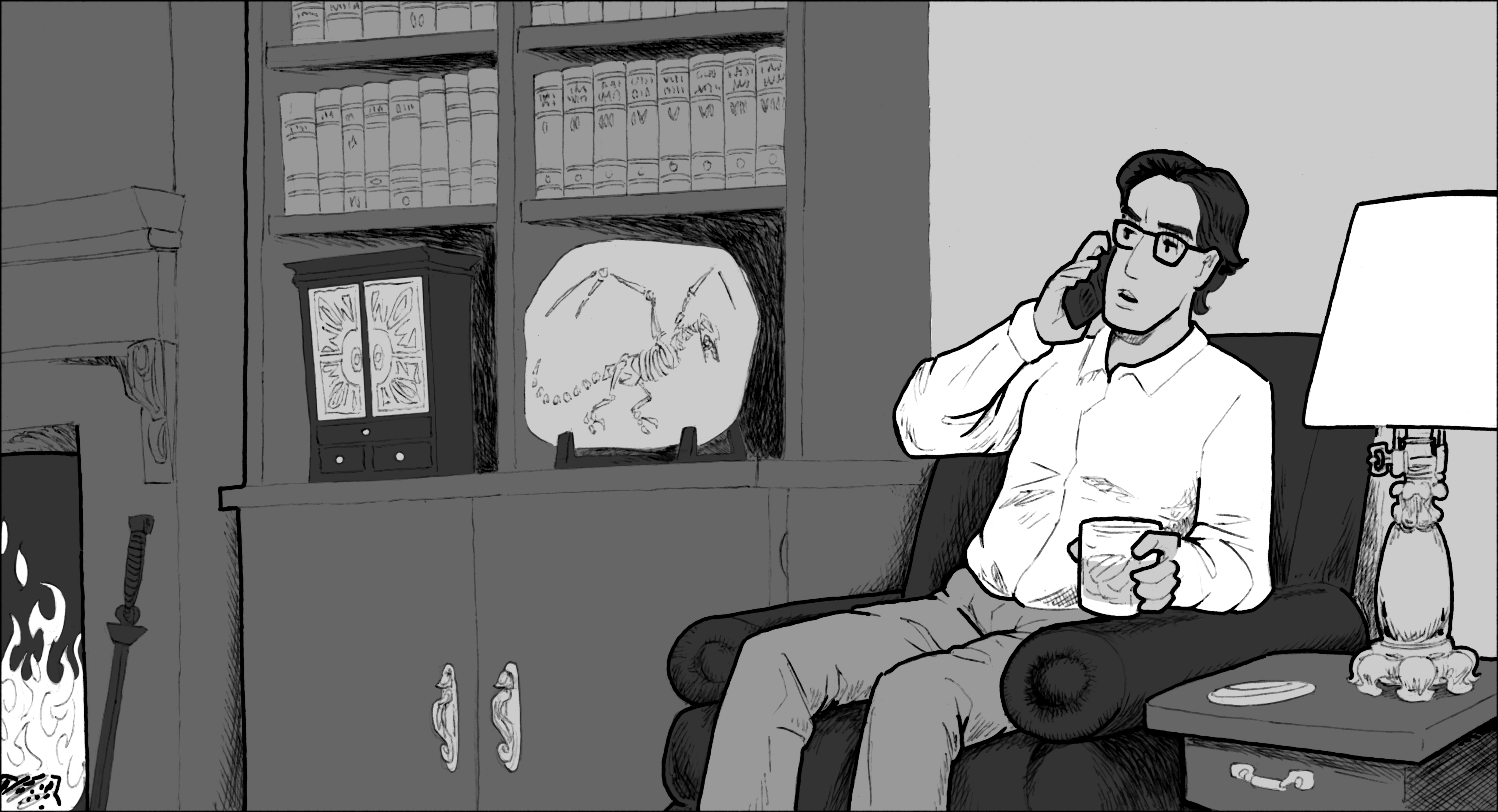 Click to load or right-click to download full-size image.
INT. ROSALIE'S APARTMENT – NIGHT
INTERCUT – PHONE CONVERSATION
(Note: This conversation takes place between Rosalie and Harry. Harry is calling from the study in his home, which should be the study of a successful and scholarly man, if not (yet) a very rich one. Harry has a drink of some kind.)
ROSALIE
Hello?
HARRY
Rosalie? Hi, it's Harry. I'm sorry to call so late. Is now an good time to talk?>
ROSALIE
Sure, Harry. I'm not doing anything.
HARRY
Listen, Rosalie, I'm sort of troubled and wanted your advice. About this Creature Wi-Fi business…
ROSALIE
You want my opinion on whether we should let it connect.
HARRY
Yes. I mean, there's an ethical issue here. It might seem weird to wonder, but what if it wants to take over the world?
ROSALIE
Seriously, Harry?
HARRY
Well, there's that. But also I get the sense that the investors are beginning to get a little restless with how much time and money we've spent on this Creature project.
ROSALIE
Yes?
HARRY
It's not really part our remit to discover new intelligences. Our continuing mission is to seek out strange new drugs and then charge people for them.
ROSALIE
If you ask me Harry, if you discover any intelligence here at all you'll be on the road to incredible discoveries. Maybe it's just my intuition…
HARRY
I trust your intuition. Someone's going to have monitor this thing's communications, though.
ROSALIE
If you want a volunteer for the job, I'll say yes.
HARRY
It might mean a lot of extra hours.
ROSALIE
So I'll move into the lab if I have to. It will be just like graduate school.
HARRY
Alright. See you there tomorrow then.
ROSALIE
Bye, Harry.
Please do not reproduce this storyboard or its associated screenplay text without permission from Faustus, who may be contacted here.