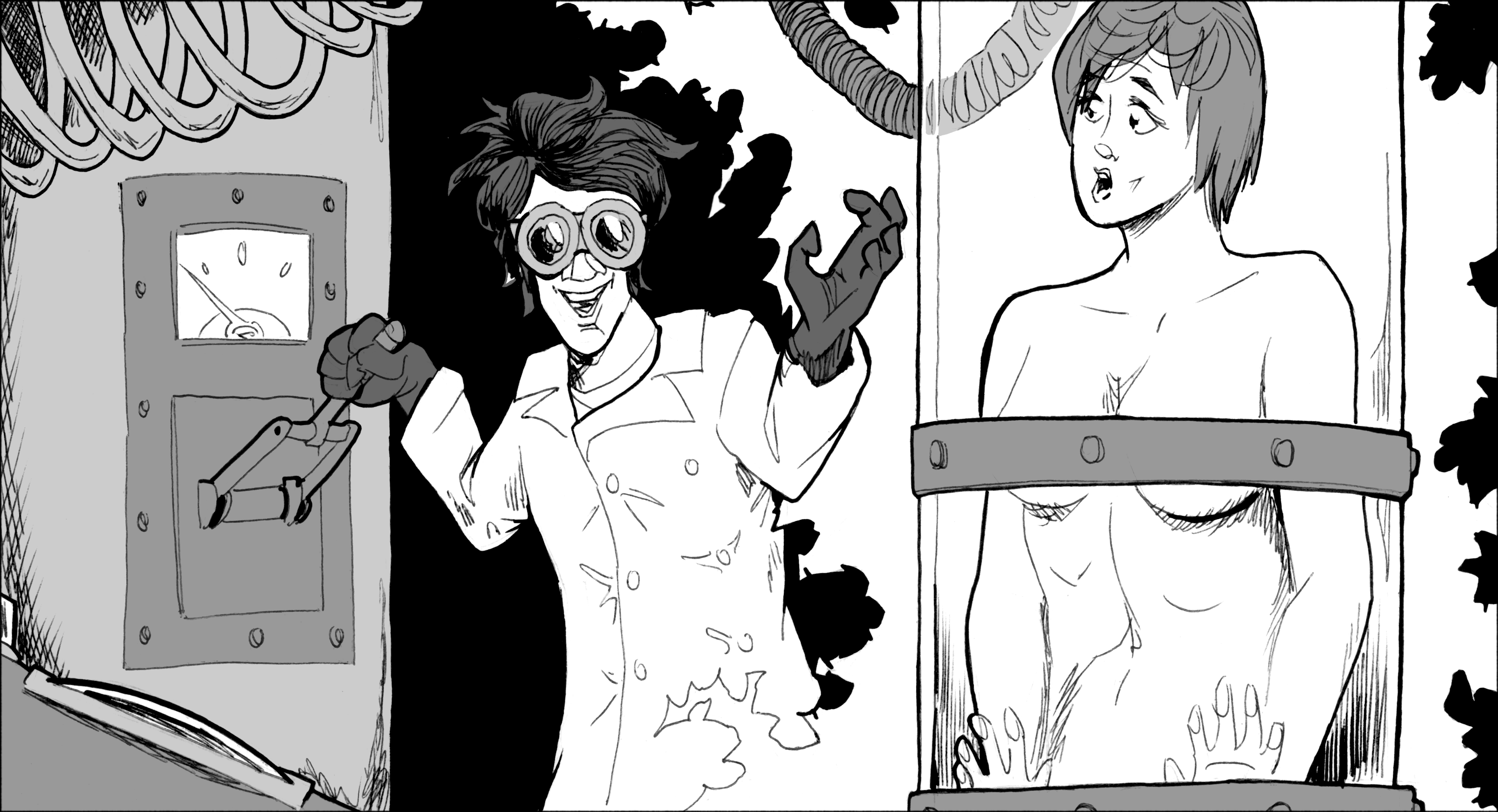 Click to load or right-click to download full-size image.
INT. A COLLEGE DINING HALL – DAY
TOOZIE'S VISION – HERSELF AS MAD SCIENCE VICTIM
(Note: this scene to some extent is meant to evoke a silent movie so its sound should all be non-diagetic.)
In a dungeon-like environment, Toozie is trapped in a transparent tube made of sections held together by bolted rings. She is naked, but the tube's rings are positioned such that her nipples and pubic area are obscured.
A satanic-looking mad scientist in a Howie coat is reaching for a large electrical switch with a black, rubber-gloved hand.
TOOZIE (V.O.)
Whereas in these pulp stories, death and suffering are part of an adventure and an eroticized spectacle.
The mad scientist throws the switch. Blue bolts of energy surge over Toozie's body. She screams (silently).
BACK TO SCENE
MIRANDA
So I suppose you agree with Edgar Allan Poe: "The death of a beautiful woman is unquestionably the most poetical topic in the world."
TOOZIE
I suppose I do at that. The thing is, these "horrible" stories take an unacceptable reality and reflect it back to us in a way that is actually enjoyable to the reader. Sherman puts the magazine back on the table.
SHERMAN
Stories don't track reality.
TOOZIE
What?
SHERMAN
All stories are false simply by virtue of being stories.
MIRANDA
Oh, come on!
SHERMAN
I'm serious. What makes a story a story, as opposed to merely a descriptive list of events, one of which follows the others?
TOOZIE
Beats me, Sherman.
SHERMAN
What makes a story a story is that it seems plausible to its listeners as an account of characters with motivations of a certain kind. But our sense of what's plausible doesn't itself track reality. It's just a piece of folk psychology, no more a realistic guide to why people do what the do than folk physics is a reasonable guide to piloting a rocket ship. What makes a story a story is a false theory about the world.
MIRANDA
I don't get it.
SHERMAN
You know the old saw that "truth is stranger than fiction?" Well, there's a reason that that's so. Fiction needs to be plausible or no one will read it. But reality doesn't care whether it's acting plausibly or not. It just rolls along as it does, uncoiling in accordance with the second law of thermodynamics, toward the heat death of the universe.
MIRANDA
What a cheerful world view you have!
TOOZIE
Should I care about whether the stories are true, so long as they are entertaining?
MIRANDA
Speaking of entertaining, we're not letting all this intellectual stuff get in the way of going to this evening's Film Society Cheesefest, are we?
SHERMAN
Oh, hell no.
TOOZIE
Most definitely not.
Please do not reproduce this storyboard or its associated screenplay text without permission from Faustus, who may be contacted here.