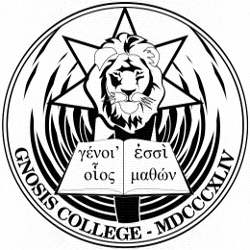 Go to current issue  |  Most recent page | Back issues
Index of past volumes of the Tales of Gnosis College collected in various formats at the Internet Archive.
Here are the collected tales of Gnosis College, beginning with The Apsinthion Protocol. The current issue appears on this page, with posts of new pages as they appear on the EroticMadScience.com front page. Back issues appear in a thumbnail index at the bottom of the page.
Kindly note that all the comics images on this page including the virtual cover were commissioned by Dr. Faustus of EroticMadScience.com and drawn by Lon Ryden is published under a Creative Commons Attribution-NonCommercial-ShareAlike 4.0 International License. You are free to copy, repost and share these images as long as you provide attribution to Dr. Faustus and Lon Ryden, but if you want to use any of them for commercial purposes or wish to create derivative works from them (other than using brief excerpts in good-faith reviews, studies and criticism) you need to seek permission from Dr. Faustus. Thank you.
Current Issue: Volume 12, Chapter 5
The Adventures of Ashley Madder, Episode V
Cover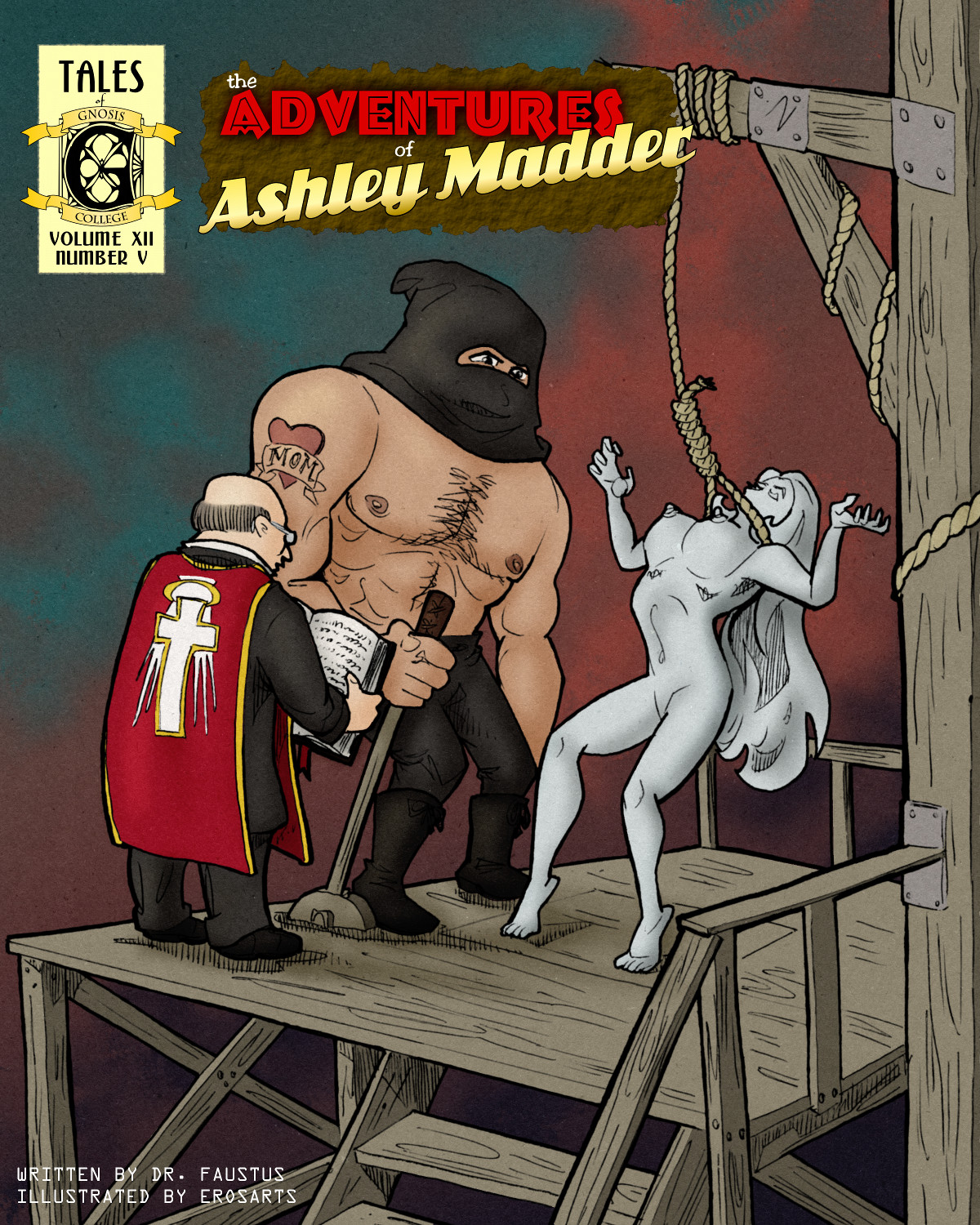 If you wish to be added to a mailing list to receive notifications whenever a new whole chapter of the Tales of Gnosis College is available, drop me a line at subscribe@eroticmadscience.com and I shall add your address to a mailing list for such, as well as occasional — I promise only occasional — other news about the Erotic Mad Science site. (I further promise not to transfer your address without your permission, and to remove it if you ask.)
Back Issues
| | | | |
| --- | --- | --- | --- |
| Vol. I, Ch. 1 | Vol. I, Ch. 2 | Vol I., Ch. 3 | Vol I., Ch. 4 |
| Vol. I, Ch. 5 | Vol. I, Ch. 6 | Vol. I, Ch. 7 | Vol. II, Ch. 1 |
| Vol. II, Ch. 2 | Vol. II, Ch. 3 | Vol. II, Ch. 4 | Vol. II, Ch. 5 |
| Vol. III, Ch. 1 | Vol. III, Ch. 2 | Vol. III, Ch. 3 | Vol. III, Ch. 4 |
| Vol. III, Ch. 5 | Vol. IV, Ch. 1 | Vol. IV, Ch. 2 | Vol. IV, Ch. 3 |
| Vol. IV, Ch. 4 | Vol. IV, Ch. 5 | Vol. V, Ch. 1 | Vol. V, Ch. 2 |
| Vol. V, Ch. 3 | Vol. V, Ch. 4 | Vol. V, Ch. 5 | Vol. V, Ch. 6 |
| Vol. VI, Ch. 1 | Vol. VI, Ch. 2 | Vol. VI, Ch. 3 | Vol. VI, Ch. 4 |
| Vol. VI, Ch. 5 | Vol. VII, Ch. 1 | Vol. VII, Ch. 2 | Vol. VII, Ch. 3 |
| Vol. VII, Ch. 4 | Vol. VII, Ch. 5 | Vol VII, Ch. 6 | Vol. VII, Ch. 7 |
| Vol. VII, Ch. 8 | Vol. VIII, Ch. 1 | Vol. VIII, Ch. 2 | Vol. VIII, Ch. 3 |
| Vol. VIII, Ch. 4 | Vol. VIII, Ch. 5 | Vol. VIII, Ch. 6 | Vol. VIII, Ch. 7 |
| Vol. VIII, Ch. 8 | Vol. IX, Ch. 1 | Vol IX, Ch. 2 | Vol. IX, Ch. 3 |
| Vol. IX, Ch. 4 | Vol. IX, Ch. 5 | Vol. IX, Ch. 6 | Vol. IX, Ch. 7 |
| Vol. IX, Ch. 8 | Vol. IX, Ch. 9 | Vol. IX, Ch. 10 | Vol. X, Ch. 1 |
| Vol. X, Ch. 2 | Vol. X, Ch. 3 | Vol. X, Ch. 4 | Vol. X, Ch. 5 |
| Vol. X, Ch. 6 | Vol. X, Ch. 7 | Vol. X, Ch. 8 | Vol. X, Ch. 9 |
| Vol. X, Ch. 10 | Vol. X, Ch. 11 | Vol. XI, Ch. 1 | Vol. XI, Ch. 2 |
| Vol. XI, Ch. 3 | Vol. XI, Ch. 4 | Vol. XI, Ch. 5 | Vol. XI, Ch. 6 |
| Vol. XI, Ch. 7 | Vol. XI, Ch. 8 | Vol. XII, Ch. 1 | Vol XII, Ch 2 |
| Vol XII, Ch 3 | Vol XII, Ch 3 | | |