There will come times on this site where it will be convenient to be able to refer to something with a third-person singular pronoun that doesn't reference a person's gender.  For example, in science fiction, including the fiction found on this site, there are sometimes persons to whom the notion of gender doesn't apply: they're neither male nor female but have no gender or are both genders or no gender or some third gender or nth gender.  And on the Internet, there are real people who pose the same issue.  Sometimes they're writing under pseudonyms that don't reveal gender, and sometimes they are people who don't identify with the traditional categories of male or female.
It's a shame that English has such a problem with this.  Languages like Chinese (the spoken version of Standard Modern Chinese, anyway) make do with a single pronoun (tā) that does full duty for "he," she", and "it" with no noticeable loss in ability to communicate.  Sometimes in English we can substitute "they" in constructions to make something gender-neutral.  But in science fiction it often doesn't make sene to do so.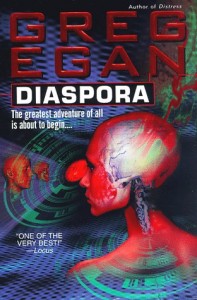 After mulling the matter over for a while, I have decided that in instances where I really need a gender-neutral pronoun for a single individual, I am going to use the pronoun ve , introduced by the New Zealand writer Keri Hulme and adopted by the Australian hard sci-fi writer Greg Egan for characters (like those in the spectacular novel featured to the left) who don't fit into conventional notions of gender.  The pronoun has the following grammatical structure:
Nominative:  ve ("Ve has a blog")
Accusative: ver ("I called ver.  I like to blog about ver.")
Possessive determinative: vis ("This is vis blog.")
Possessive: vis ("That is vis.")
Reflexive: verself ("Ve blogs about verself too much.")
This won't be necessary too often, but it will be sometimes.