One of the twin crises that have Aloysius running back and forth late in Progress in Research is an attempt at breast augmentation that runs way out of control.
Well, maybe I'm just being immature to notice such things, but even this odd little theme has a history.  One example (which I only vaguely remembered from video-store box art until I finally got hold of and watched a copy, just for your benefit, dear readers) is the 1982 comedy Jekyll and Hyde…Together Again.  I'll never have those 87 minutes of my life back, but I can report that there is a scene in which a plastic surgeon named Dr. Knute Lanyon gets distracted in the course of a procedure that "injects collagen behind the soft tissue of the breast" or one Mrs. Simpson.  This inflation goes on and on.  Mrs. Simpson actually seems rather pleased with the unplanned result.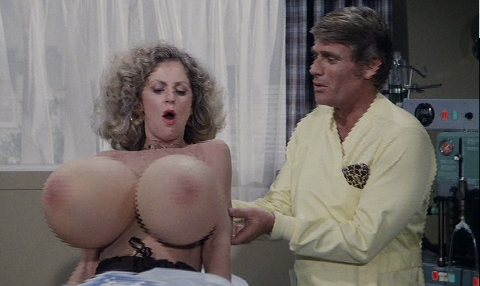 As she admonishes Dr. Lanyon "don't you dare touch a thing…Bernie's going to love these."
A better example of this sort of thing can be found in Vittorio Giardino's Little Ego (1985).  This is an erotic tribute (Wikipedia suggests "parody," but I think tribute might be better) to Windsor McCay's extraordinary Little Nemo in Slumberland (1905 to 1914).  Nightly, Little Ego has dreams in which all sorts of absurd and wrong and yet highly erotic things happen.  (There is an extended "abduction into a harem" sequence which doubtless influenced the "Odalisque" segment of Study Abroad.)    It is an exquisite piece of work that belongs in the library of any serious collector of comic-book erotica.
In one of Ego's dreams, she stands before a mirror, wishing she had bigger breasts.  By the merest chance she finds before her a jar of cream the label of which proclaims "increases and firms breasts in minutes."  "Why not?" asks Ego, trying it out.  And before you know it…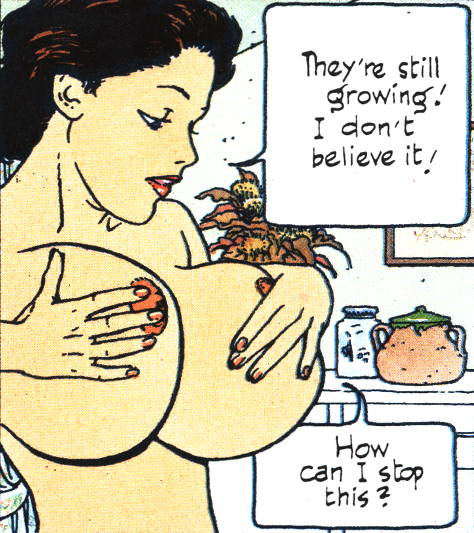 The dream ends with Ego in a rather unusual modeling career.  For a Vittorio Giradino site look here.