In the end, Seth Brundle decides he just can't hack being a human-fly hybrid (one which is becoming more fly than human as time goes on).  And there have been complications, in the form of his girlfriend Veronica getting pregnant (with what it's not clear).
So Brundle comes up with  what is clearly very much a mad science idea, which is that he is going to use his transporter to fuse himself, Veronica, and baby into a single hybrid, one which he hopes will be more human than fly.
It's quite an audacious idea, I must say, and perhaps it's one source of my idea of fusing Maureen Creel and Jill Keeney into a single woman named Jireen.  Unfortunately for science, Veronica is no more keen on the idea of being fused with Brundle than Aloysius was with Jireen, when Jireen proposed exactly that.
It's a close call for Veronica, though.  She almost gets fused.  And I must say she makes a fetching mad science almost-victim.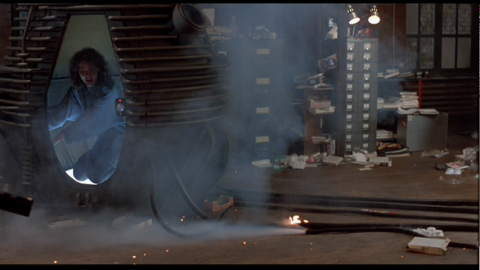 Not a movie that really ends well for any of its protagonists.  But it's a true classic all the same.