No, that's not a spelling error.  Or at least, that's not my spelling error.  And I've got the screenshot to prove it: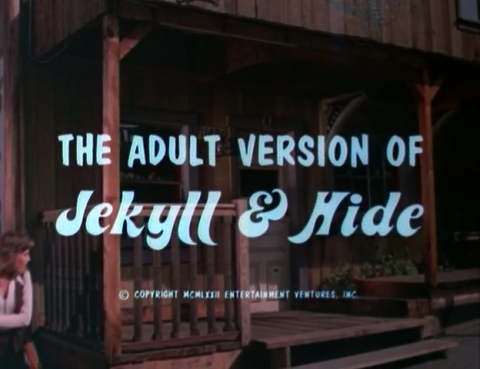 A real movie, it turns out (made in 1972).   Now the Jekyll and Hyde (ahem) story would seem almost tailor-made for erotic mad science exploitation:  there's dangerous self-testing of a chemical formula, transformation, liberation of repressed selves, and so forth, all boiling up from the original Robert Louis Stevenson story.
Now if you, dear reader, were making an adult version of the Jekyll and Hyde story, you might try any number of things.  Perhaps Jekyll could be a timid individual transformed into bold, sexy one.  Or perhaps you could play games with sexual orientation — straight to gay, say, or vanilla to polymorphously perverted.  Or you could do it as a gender-bender.  This movie opts for the last one.  But it's a fail because in spite of being a basically a soft-core porn film, a sort of shocking sex-negativity runs through the whole movie.
To put things another way, the Jekyll and Hyde story doesn't have to be a good vs. evil story to work.  But it doesn't really work as an evil vs. evil story.  It's possible to make Dr. Jekyll a schlub, but for the story to have much of a point he would have to be a basically decent, perhaps even somewhat likable schlub.
The central character just fails, pretty much, because as both Jekyll and Hyde he's despicable.  As a Jekyll figure — a "Dr. Chris Leeder," the movie opens with his cheating on his fiancée.  When he's dragged rather reluctantly on an antique-shopping detour by the same fiancée later that same day, he discovers the notebook of the "historical" Dr. Jekyll, describing his experiments.   Leeder becomes obsessed with the book.  When the shopkeeper later refuses to sell it, Leeder stone cold strangles the poor man.  So much for the good, sociable Dr. Jekyll figure in this movie.
Leeder reads the book, fascinated with the adventures of Hide.  The story is told in flashbacks, and at this point I had the curious feeling of watching something that resembled less a early 70s softcore movie and something more like an 80s slasher flick with an unusual amount of nudity.  In the repellent values system of this fictional world, sexuality courts violent death:  Hide rapes and murders two women:  one a prostitute who offers him her services, another a a masturbating woman he spies through a window.
Back in the 1970s, Leeder recreates Jekyll's formula and uses it on himself.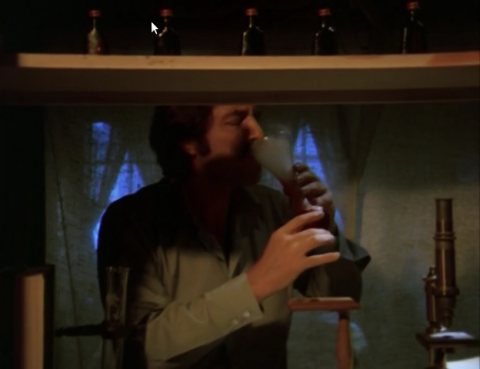 It induces agonizing transformation…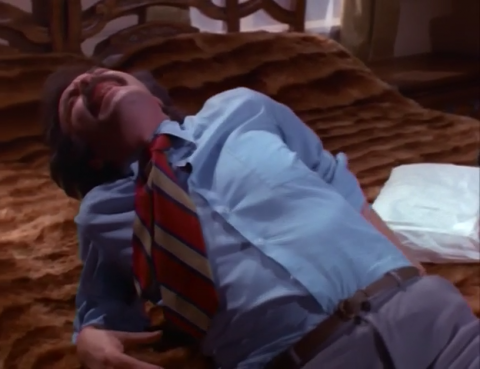 ..into a beautiful woman.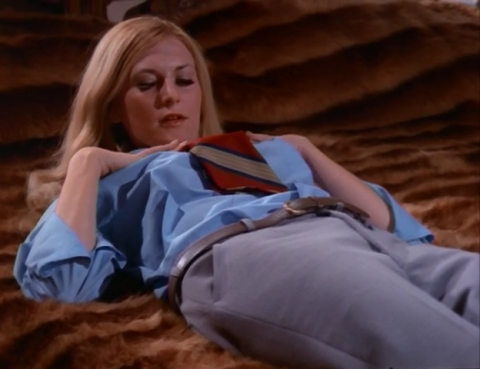 Yep.  A woman.  I should note that while the Jekyll-derived transformation potion does not provide a female wardrobe, it does at least do hair, makeup and nails.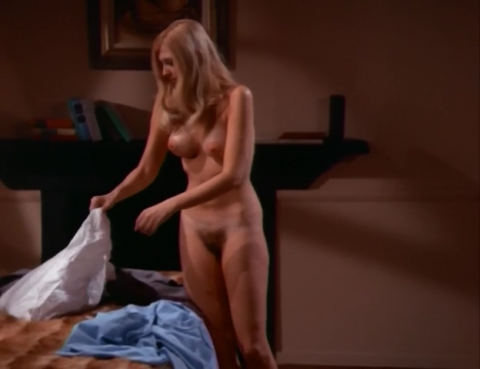 (If you're hoping for a transformation effect here — which I was, irrationally — you'll be disappointed.  Actor Jack Buddliner as Dr. Leeder drinks potion, falls on bed, does lots of excruciating histrionics, cut, camera pans to his shoes, cut, new scene with actress Jane Louise as Miss Hide in Leeder's clothes, which she at least has the decency to remove completely.  What a wasted opportunity.)
Of course, Miss Hide is not just a lesbian, for watching her I had the feeling that I was now watching one of those 1960s sexploitation flicks that have their own ugly value system:  lesbian = psycho.  A girl fight and the gratuitous castration of a sailor picked up in a bar happen along the way.
What a disappointment for thaumatophiles.  If you really must, it's available from Something Weird Video.  But personally, I'm hoping someone will do better in the future.  Which shouldn't be very hard, in all honesty.