No, not actually looking for one, offering one.
Here's the rationale: over time I expect that the number and weight of bespoke images here at Erotic Mad Science is going to increase substantially, to the point where it will become cumbersome at best (and threaten my server with melting) to offer them all at high resolution through a WordPress blog.  There's a decent-sized gallery of such images hosted here and there are likely to be more in the future which I would like to distribute.  Some of these might be archives of multiple, high-definition images which really can't be distributed through a blog.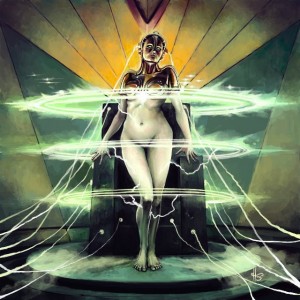 One likely medium is to use peer-to-peer file sharing as a means of distributing large files, so I'm now attempting a little experiment with BitTorrent.  Those of you who are familiar with the protocol are invited to download one little torrent that I'm making available.  As a sweetener, if you succeed you will get a version of Hugo Araújo's Maria transformation image in far higher definition than has hitherto been available to the general browsing public.
You can download the torrent here from Kickass Torrents (I don't believe registration is required just to download).  Clicking on the image below should take you to the appropriate page.
I welcome any feedback about your experiences — positive or negative — with this technology, which you wish to offer either in the comments section of this post or by e-mailing me.   Thanks for your participation!