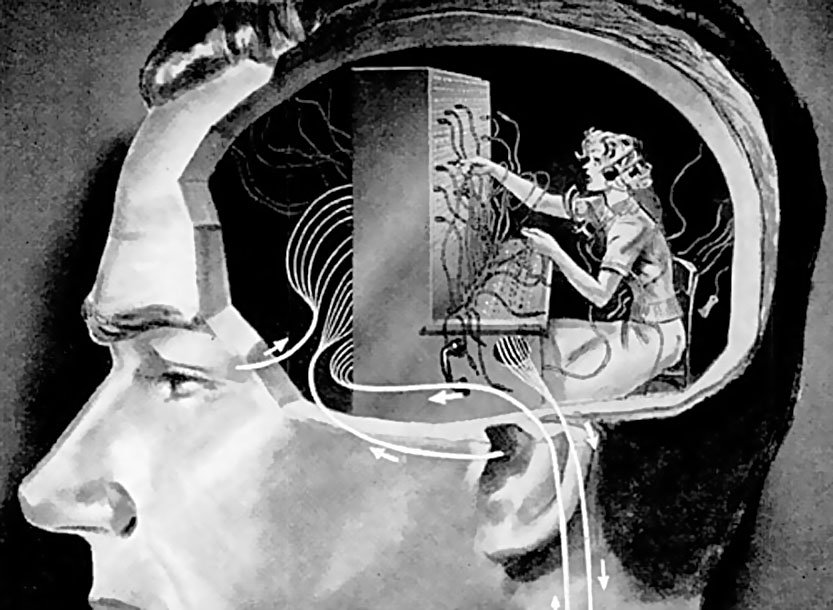 Original post here. This image was researched by Bacchus at ErosBlog as part of the "Γ commission." The research was originally published at Hedonix as "Γ 040 – Mental Switchboard>. Here is what Bacchus found.
Although this image appears without credit in many hundreds of places around the web (especially sites about mental health or hypnosis) virtually all appearances seem to be various crops and edits of this image on Flickr. It was posted by Flickr user James Vaughn (x-ray_delta_one) and comically captioned "…needs more Miltown!" (This is a reference to a once-popular tranquilizer and relies for its humor value on the switchboard operator's frazzled appearance; one Flickr commenter calls her "the quintessential frazzled switchboard operator of the 1950s.")

Viewing this image where it appears in x-ray_delta_one's excellent photostream of vintage magazine illustration, we see that if it is a detail from a magazine illustration (as appears likely) the whole page does not appear, which is a departure from Vaughn's usual practice. Among the image's many tags are: magazine, illustration, advertising, Popular Science, Popular Mechanics, and magazine illustration. This suggests that Vaughn, too, believed it was from a vintage magazine advertisement or illustration; I take his inclusion of two likely titles to suggest that he does not know where the image appeared, and was guessing.