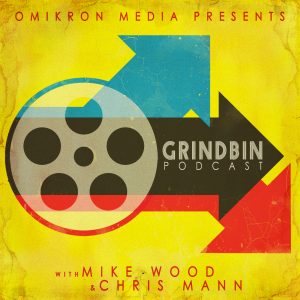 Any one of you loyal Erotic Mad Science readers who might be wondering what my voice sounds like get another chance to find out as I've just put in a guest appearance at the Grindbin Podcast with Mike Wood and Chris Mann. As many of you likely already know, over at the Grindbin the hosts and guests riff on some at-once remarkable and dubious movies. Traditionally most of the movies have been exploitation material from the 1960s, 70s, and 80s, but for this episode I was able to convince the guys to go deep into the exploitation past, where we discussed a pair of utterly insane productions from master exploitationeer Dwain Esper (1894-1982), in particular the very mad science flick Maniac 1934 and the "educational" drug panic movie Marihuana (1936). Note for cinephiles: both of these short films have surprising amount of female nudity for commercial films made in the 1930s. Take that, Production Code!
I can't speak for Chris or Mike, but I had great time recording this episode. Not only are movies as nuts as these are intrinsically fun to riff on, but the episode was also an opportunity for me to discuss the long macabre showbusiness afterlife of Elmer McCurdy's corpse, and insinuate that perhaps Dwain Esper was just a little bit too interested in actress Harley Wood's pretty feet. You can listen to or download the episode by clicking on this link or you can subscribe to the podcast by searching for "Grindbin" in your podcast app of choice.
For movie completists and those who want to play along with the riffers from home, I am pleased to note that both movies are in the public domain and can be found via the Internet Archive. The page for Maniac is here, where you can watch it and whence you can download it in a variety of formats. I have also embedded it in the post;
The page for Marihuana is likewise here and I've also embeded it below:
Note 1: Maniac and I go back a really long way. Nine years ago, very early in the history of Erotic Mad Science, I wrote a post on the movie, which you can go back to if you want to see just how very little I have managed to mature in the meantime.
Note 2: Chris and Mike famously have a rather enduring interest in the 1977 teen sex comedy The Van, and at the end of every episode both hosts and guests indulge in a bit of metafictional speculation about how The Van's principal characters (played by Stuart Getz and Danny DeVito) could be fit into the movie reviewed that week. (I can't wait to see what they do with Sex and Zen, should they ever get around to that classic.) I had a contribution about fitting those characters into Maniac. Listen if you dare, but ***TRIGGER WARNING*** it involves what Michael O'Donoghue once called "the love which cannot speak its name."
Note 3: Longtime readers will note that the guys at Grindbin have been quite friendly to me themselves over the years. Early on, they kindly took up my suggestion to do an episode on Invasion of the Bee Girls, and they were also willing to do an episode on Robotrix. So it was indeed true that being on the podcast was, as I said before the mike (cough), like being a kid on Christmas morning.