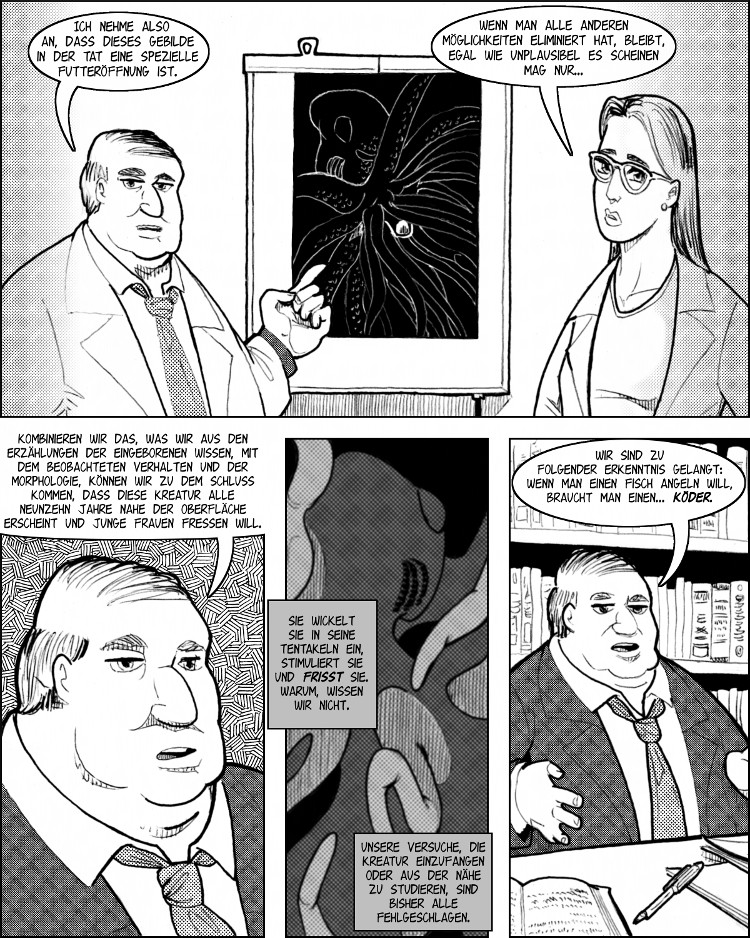 This work is licensed under a Creative Commons Attribution-NonCommercial-ShareAlike 4.0 International License.
PAGE 27 (Four panels)
Panel 1: Turpentine and Claudia stand in front of the vague underwater image of the creature, illuminated with a lightbox as if it were an X-Ray. Both are wearing white coats. Turpentine is pointing to the large siphon-like structure.
Turpentine (1): So, I suppose this structure is actually a specialized feeding orifice.
Translation (1): Ich nehme also an, dass dieses Gebilde in der Tat eine spezielle Futteröffnung ist.
Claudia (2): When you've eliminated all the other possibilities, what remains, however implausible…
Translation (2): Wenn man alle anderen Möglichkeiten eliminiert hat, bleibt, egal wie unplausibel es scheinen mag nur…
Panel 2: Turpentine back in his office, being interviewed.
Turpentine (3): Combining what we know from the native folklore and observed behavior and morphology, we seem compelled to conclude that every nineteen years, this creature comes near the surface and wants to eat young women.
Translation (3): Kombinieren wir das, was wir aus den Erzählungen der Eingeborenen wissen, mit dem beobachteten Verhalten und der Morphologie, können wir zu dem Schluss kommen, dass diese Kreatur alle neunzehn Jahre nahe der Oberfläche erscheint und junge Frauen fressen will.
Panel 3: A closer-in view of the mass of tentacles in the underwater image.
CAPTION – TURPENTINE NARRATING (4): It enmeshes them in tentacles, stimulates them, and eats them. We have no idea why.
Translation (4): Sie wickelt sie in seine Tentakeln ein, stimuliert sie und frisst sie. Warum, wissen wir nicht.
CAPTION – TURPENTINE NARRATING (5): Our methods to capture or closely study it have hitherto all failed.
Translation (5): Unsere Versuche, die Kreatur einzufangen oder aus der Nähe zu studieren, sind bisher alle fehlgeschlagen.
Panel 4: Turpentine in his office, being interviewed.
Turpentine (6): We have been pushed to the conclusion that if you want to hook a fish, you have to have…bait.
Translation (6): Wir sind zu folgender Erkenntnis gelangt: Wenn man einen Fisch angeln will, braucht man einen…Köder.

Köder (Deutsch/Langseitige Version)
Köder (Deutsch/Dia-Version)