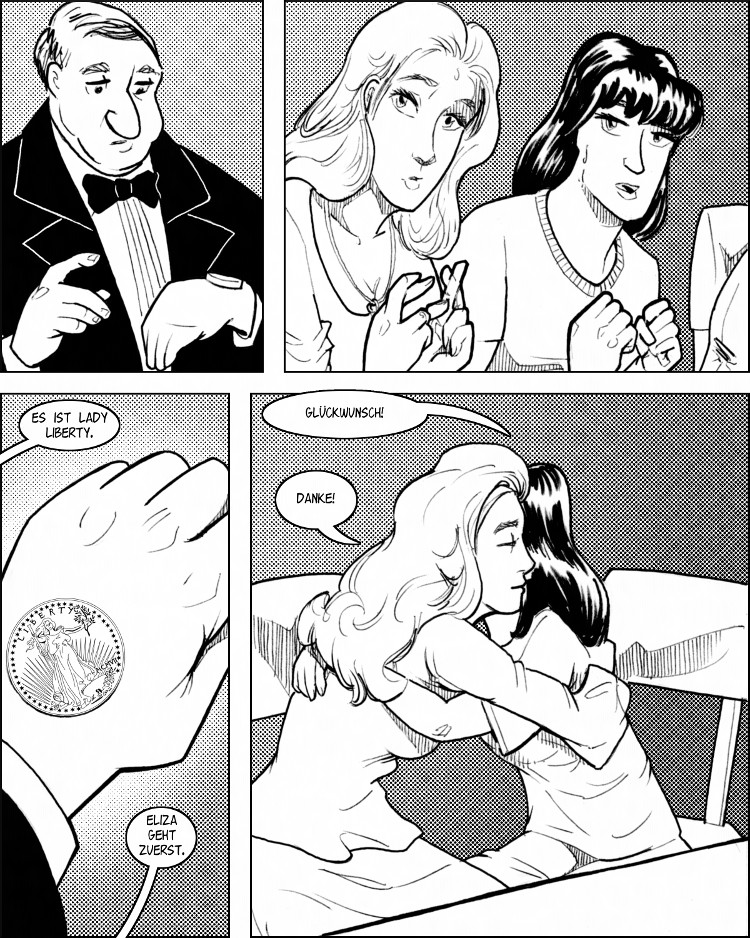 This work is licensed under a Creative Commons Attribution-NonCommercial-ShareAlike 4.0 International License.
PAGE 46 (Four panels)
Panel 1: Turpentine has lifted away his right hand and is now looking down at the back of his left, where the coin is now resting.
Panel 2: Eliza and Daphne sitting next to one another, both wide-eyed in anticipation.
Panel 3: Extreme close-up of the coin resting on the back of Turpentine's hand. It is Lady Liberty-side up.
CAPTION – TURPENTINE SPEAKING (1): It's Lady Liberty.
Translation (1): Es ist Lady Liberty.
CAPTION – TURPENTINE SPEAKING (2): It's Eliza.
Translation (2): Eliza geht zuerst.
Panel 4: Daphne and Eliza leaning over, giving each other a hug.
Daphne (3): Congratulations!
Translation (3): Glückwunsch!
Eliza (4): Thank you!
Translation (4): Danke!

Köder (Deutsch/Langseitige Version)
Köder (Deutsch/Dia-Version)