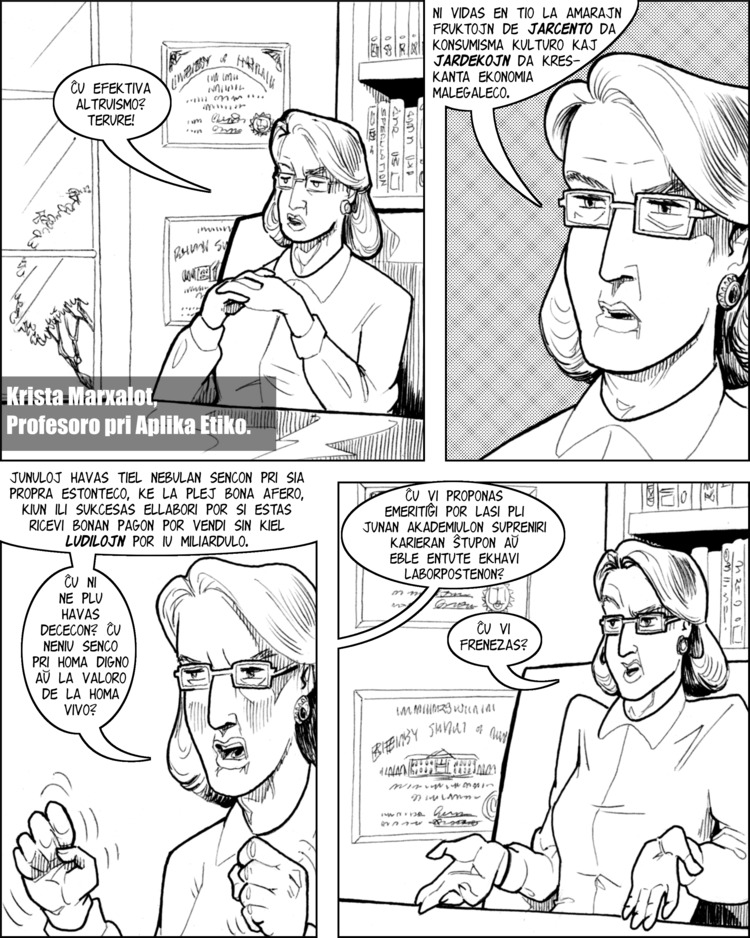 This work is licensed under a Creative Commons Attribution-NonCommercial-ShareAlike 4.0 International License.
PAGE 35 (Four panels)
Panel 1: CHRISTA MARXALOT ("Marxalot"), a severe-looking middle-aged woman professor, being interviewed in her academic office.
SUBTITLE (1): Christa Marxalot, Professor of Applied Ethics.
Translation (1): Krista Marxalot, Profesoro pri Aplika Etiko.
Marxalot (2): Effective altruism? Appalling!
Translation (2): Ĉu efektiva altruismo? Terure!
Panel 2: Same interview, but Marxalot looking angrier.
Marxalot (3): Here we see the bitter fruits of a century of consumer culture and decades of escalating economic inequality.
Translation (3): Ni vidas en tio la amarajn fruktojn de jarcento da konsumisma kulturo kaj jardekojn da kreskanta ekonomia malegaleco.
Panel 3: Same interview, with Marxalot now angry enough to be shaking a fist.
Marxalot (4): Young people have such a bleak sense of their own futures that the best they can conceive of for themselves is to try to get a good price selling themselves as playthings for some billionaire.
Translation (4): Junuloj havas tiel nebulan sencon pri sia propra estonteco, ke la plej bona afero, kiun ili sukcesas ellabori por si estas ricevi bonan pagon por vendi sin kiel ludilojn por iu miliardulo.
Marxalot (5): Have we no decency anymore? No sense of human dignity or the value of human life?
Translation (5): Ĉu ni ne plu havas dececon? Ĉu neniu senco pri homa digno aŭ la valoro de la homa vivo?
Panel 4: Marxalot now sitting back in her chair, looking offended.
Unseen interviewer (out-of-panel balloon) (6): Are you proposing to retire to let a younger academic move up the career ladder, or perhaps get a job at all?
Translation (6): Ĉu vi proponas emeritiĝi por lasi pli junan akademiulon supreniri karieran ŝtupon aŭ eble entute ekhavi laborpostenon?
Marxalot (7): Are you insane?
Translation (7): Ĉu vi frenezas?

Logaĵo (Esperanto/Longpaĝa versio)
Logaĵo (Esperanto/Diapozitivila versio)