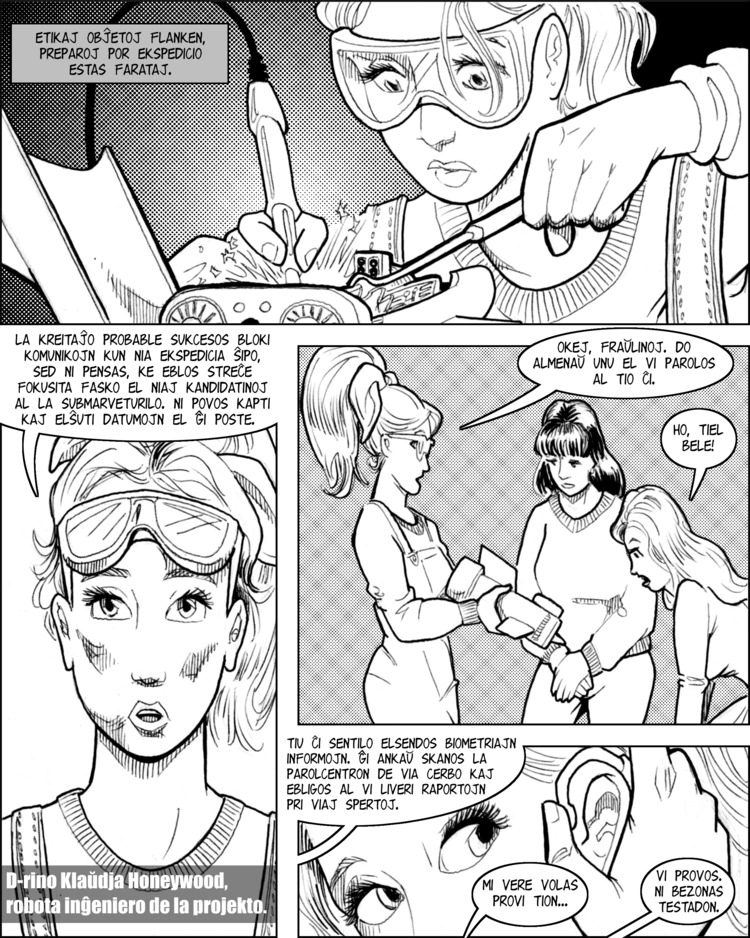 This work is licensed under a Creative Commons Attribution-NonCommercial-ShareAlike 4.0 International License.
PAGE 36 (Four panels)
Panel 1: Claudia, in coveralls and wearing goggles, sitting at a high-tech workbench making adjustments to a tiny (about the size of a toaster) submersible drone.
CAPTION – PSEUDO-NARRATION (1): Ethical objections aside, preparations for an expedition are laid in.
Translation (1): Etikaj obĵetoj flanken, preparoj por ekspedicio estas farataj.
Panel 2: Claudia now being interviewed in the lab. She has pushed her goggles up on her forehead, and her face has some sooty smudges on it.
SUBTITLE (2): Claudia Honeywood, Ph.D., Project Robotics Engineer.
Translation (2): D-rino Klaŭdja Honeywood, robota inĝeniero de la projekto.
Claudia (3): The creature will probably be able to block communications with our expedition ship, but we think a tightly focused beam from our subjects to a submersible might be possible. We can capture and retrieve data from it later.
Translation (3): La kreitaĵo probable sukcesos bloki komunikojn kun nia ekspedicia ŝipo, sed ni pensas, ke eblos streĉe fokusita fasko el niaj kandidatinoj al la submarveturilo. Ni povos kapti kaj elŝuti datumojn el ĝi poste.
Panel 3: A somewhat cleaned-up Claudia showing the submersible to Daphne and Eliza. Daphne seems interested, Eliza almost enchanted.
Claudia (4): Okay, ladies. So, one of you at least is going to be talking to this.
Translation (4): Okej, fraŭlinoj. Do almenaŭ unu el vi parolos al tio ĉi.
Eliza (5): Ooh, it's so cute!
Translation (5): Ho, tiel bele!
Panel 4: Claudia fitting something behind Eliza's ear.
Claudia (6): This sensor will transmit biometrics. It will also scan your brain's speech center and allow you to provide some narration of your experiences.
Translation (6): Tiu ĉi sentilo elsendos biometriajn informojn. Ĝi ankaŭ skanos la parolcentron de via cerbo kaj ebligos al vi liveri raportojn pri viaj spertoj.
Eliza (7): I really want to try that…
Translation (7): Mi vere volas provi tion…
Claudia (8): You will. We need testing.
Translation (8): Vi provos. Ni bezonas testadon.

Logaĵo (Esperanto/Longpaĝa versio)
Logaĵo (Esperanto/Diapozitivila versio)