Not only does poor Marie get swallowed in a vore-like scenario as she gets abducted, she also gets deposited in a fluid-filled tube, prepared for transport.
Now this is a subject we've visited before here at EroticMadScience.  Further digging has shown just how deep the whole "girls in tubes" trope goes.  The blogger at Posthuman Blues refers to girls-in-tubes as "the meme that wouldn't die," and presents impressive evidence from the visual record of classic sci-fi to that effect.  For example, this cover from Amaxing Stories (a publication we have also often visited before here at EroticMadScience).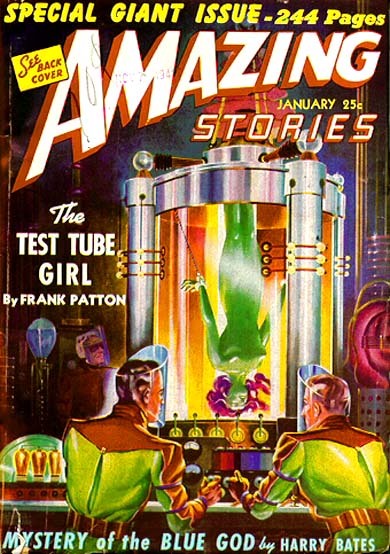 A check against this astonshing cover archive puts this issue in January 1942.  As usual, it's hard to dig up much on the story, although one academic source makes it seem even weirder than the cover suggests.
Posthuman Blues also provides us with other fine examples of girls in tubes.  This is my personal favorite example from a whole post dedicated to such.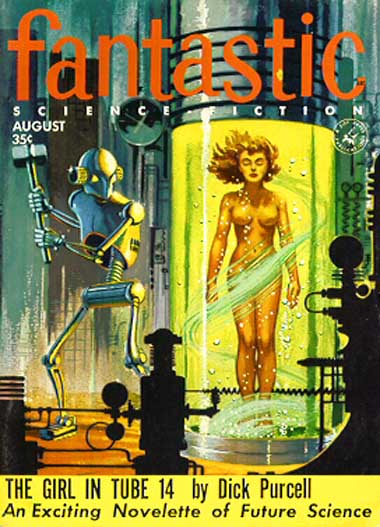 From August 1955, at least according to one useful source.  Beyond that, it's hard to dig up much.
And then it gets stranger still.  I recently found this image on Janitor of Lunacy: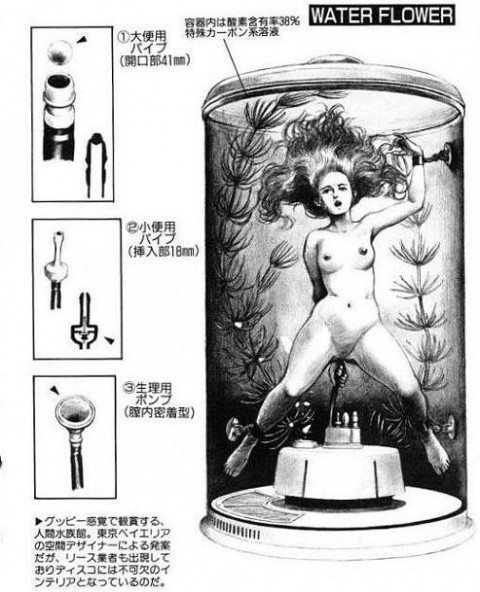 And I think this is meant to be a girl in a tube.  There appears to be lots of technical-looking information surrounding her, which seems just ideal from a mad science perspective.   Though it is in Japanese, a language I don't read.  And since it's part of the graphic image, I can't even readily run through Google translate to produce weird-looking English.
If anyone want to pitch in (either explaining what the text in the image is about, or just tossing in your favorite girls in tubes images), by all means, feel free!