An early and probably malign influence from my childhood UHF TV-watching days was a 1964 movie called either Monstrosity or The Atomic Brain.  It had mad science, brain swaps, three lovely girls in terrible peril, the mind of a cat in a woman's body, and the unholy quest for immortality by one of the most unpleasant old-lady characters to grace the grade-Z screen.
Despite all these pluses it feels overlong even at 65 minutes.  But oh, it does have its moments.
Such as an early cinematic naked girl-in-a-tube.  Two of  them, within the first ten minutes.  The people who made this might not have been great writers, but they sure knew about getting sexploitative early.  Here is the second of them: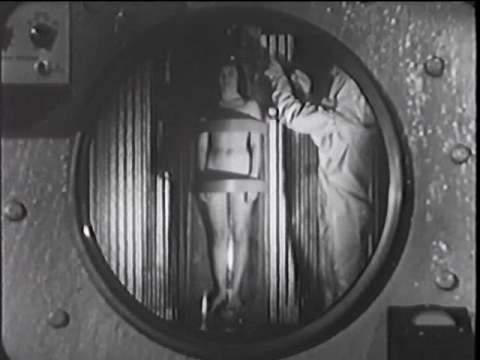 The poor naked thing is a corpse, stolen froma nearby graveyard.  The man in the radiation suit is our anti-heroic mad scientist, attempting to revive her tissues (by means of "atomic fission, produced in the cyclotron," according to the narrator), so that he can then implant an animal's brain (!) in her.  Unfortunately, it doesn't work so well, and she ends up merely as a zombie.
Maybe this movie isn't quite so bad after all.  Is it available at the Internet Archive?  But of course!
Enjoy if you can. (And if you can't just a little, why are you here?)