I've done a lot of posts here at Erotic Mad Science about what I call the "tube girl meme," the visual depiction of a pretty woman, often nude or scantily clad, sealed in some sort of transparent tube (often suspended in fluid) for the purpose of preservation, experiment, or some perverted purpose — let your imagination run free there.  It's clearly a pretty prominent visual motif in the mad science genre and really takes off with pulp covers after the Second World War.  But where did it come from?
I'll offer a conjecture, and kindly keep in mind that it's only a conjecture so if any of you who read this blog know of an earlier or better one by all means please comment.   It goes back to a locus classicus of cinematic mad science, The Bride of Frankenstein (1935).
In this film, Dr. Septimus Pretorius, one of Frankenstein's former teachers, demonstrates to Frankenstein a set of experiments in creating life, in this case Pretorius's creation of a set of homunculi that live in cylindrical glass jars. It's a pretty good effect, given that it's 1935.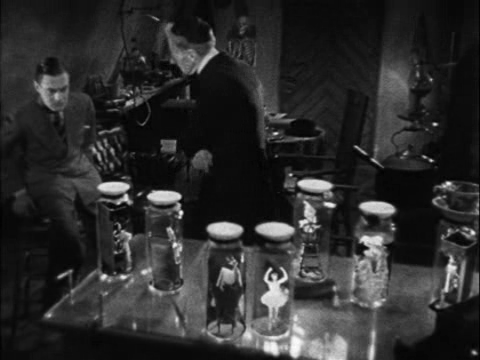 Among these are a dancer, (who, Pretorius laments, will only dance to Mendelssohn's "Spring Song")…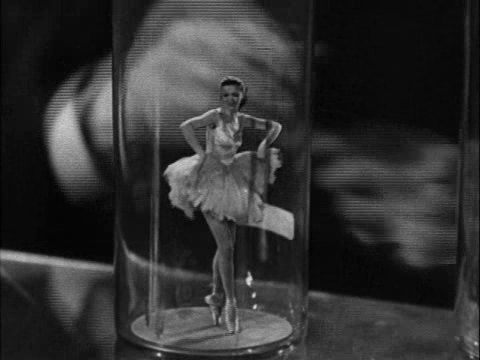 ..and, perhaps more on visual point, a mermaid.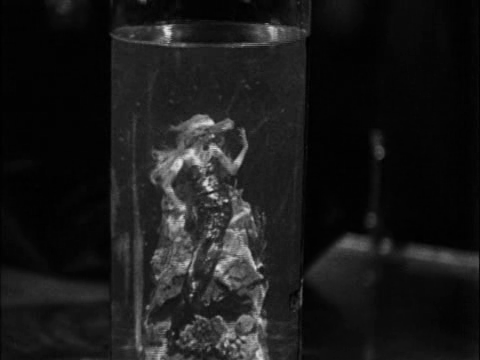 Origin of the concept?  Maybe.  I'm willing to bet that all those pulp artists and the public that patronized their work both watched Bride of Frankenstein a lot.
Bonus erotic trivia: The mermaid in the jar is played by Josephine McKim, a swimmer who won a gold medal in 1932 Olympics and who was the body double for Maureen O'Sullivan during her famous pre-code "nude swim" sequence in Tarzan and His Mate (1934).
Is there video? You betcha!
>
Of course we have also visited the contributions of Olympic swimmers to erotica on this blog before.