Tireless and resourceful CG artist Niceman has rendered another key scene from The Apsinthion Protocol for me, here Ashley Madder's sudden and unexpected transformation into a statue, right in front of the astonished Edmund.  Through the magic of a double render, he manges to capture her right in the moment of transition between flesh and stone: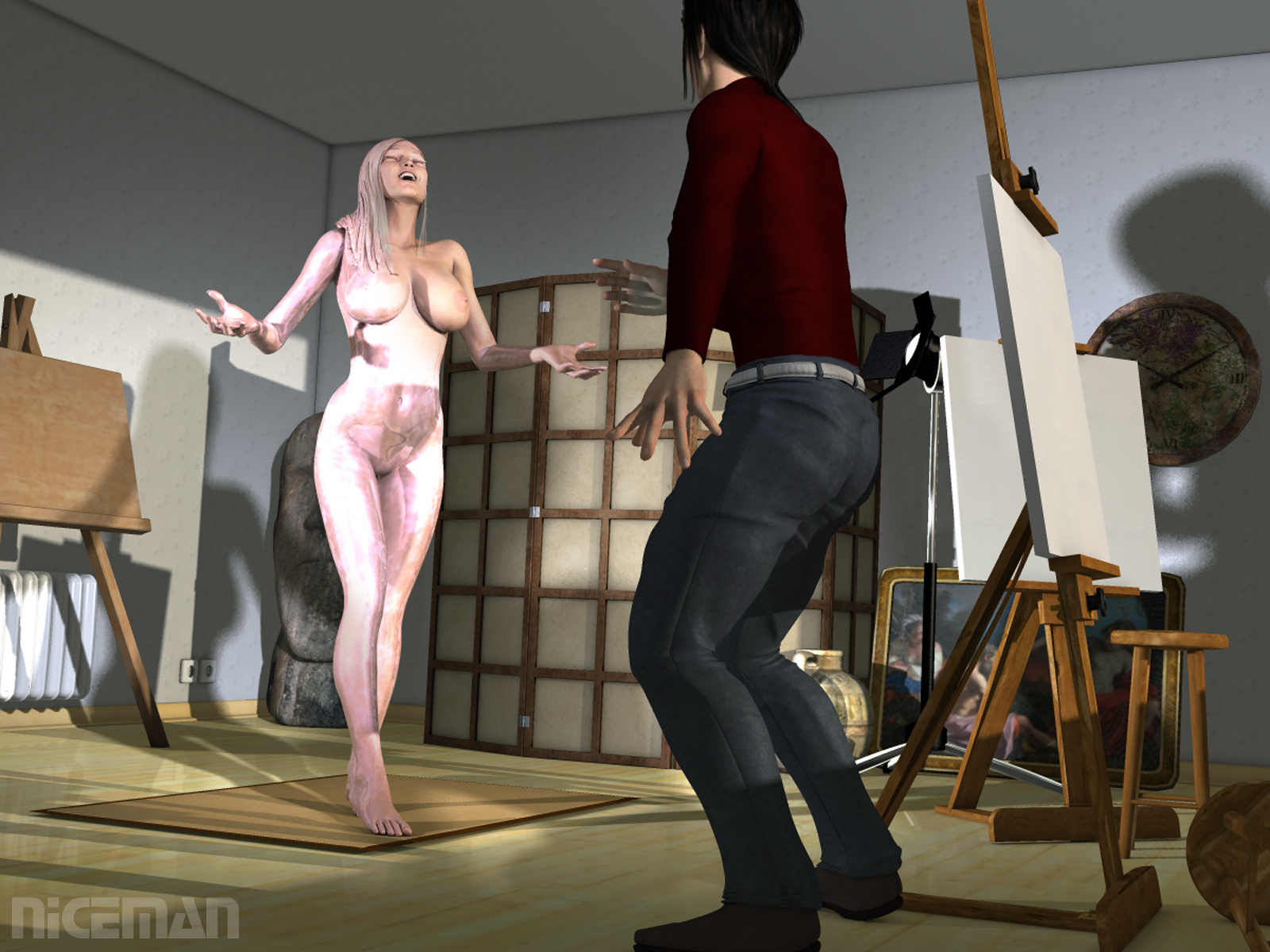 Ashley Transformation by by Niceman, commissioned by Dr. Faustus of EroticMadScience.com is licensed under a Creative Commons Attribution-NonCommercial-NoDerivs 3.0 Unported License (Click on the image for a larger version.)
In case you've fallen a little bit behind on your script-reading, the scene is this:
Ashley begins to tremble. A fine sheen of sweat appears. She begins to pant.
EDMUND
Ashely, are you feeling alright?
ASHLEY
No, no, stay back. Draw. I want to see you draw, and I want to feel the moment.
Edmund tries to draw. Ashley's breathing quickens.
(Note: Through the following speech Ashley's excitement continues to mount toward orgasm.)
ASHLEY
I want you to draw because I want you to put down how beautiful I am so that that can last forever, so that there can be more eyes, eyes throughout history. Eyes looking with longing and saying what pretty boobs, what wonderful nipples, what a lovely belly, what gorgeous legs, what a sweet cunt. Me. I want them to say that about me, not be a good girl. So many people, deprived of beauty to look at…I wasn to give it to them…I want them to have it… I want their eyes on me…I want my beauty to last forever…
EDMUND
Ashley!
ASHLEY
…forever…
EDMUND
(standing up, alarmed)
Ashley!
ASHLEY
…forever…beautiful forever…and…
(crying out orgasmicly)
…my…wish…is…coming…true!
SFX: Ashley's flesh and hair turn to pinkish stone. Her hands freeze with her palms turned outward, her face is turned upwards, eyes close, lips parted, an expression of ecstasy.
Ashley's last cry dies away as her transformation is complete.
Be careful what you wish for!