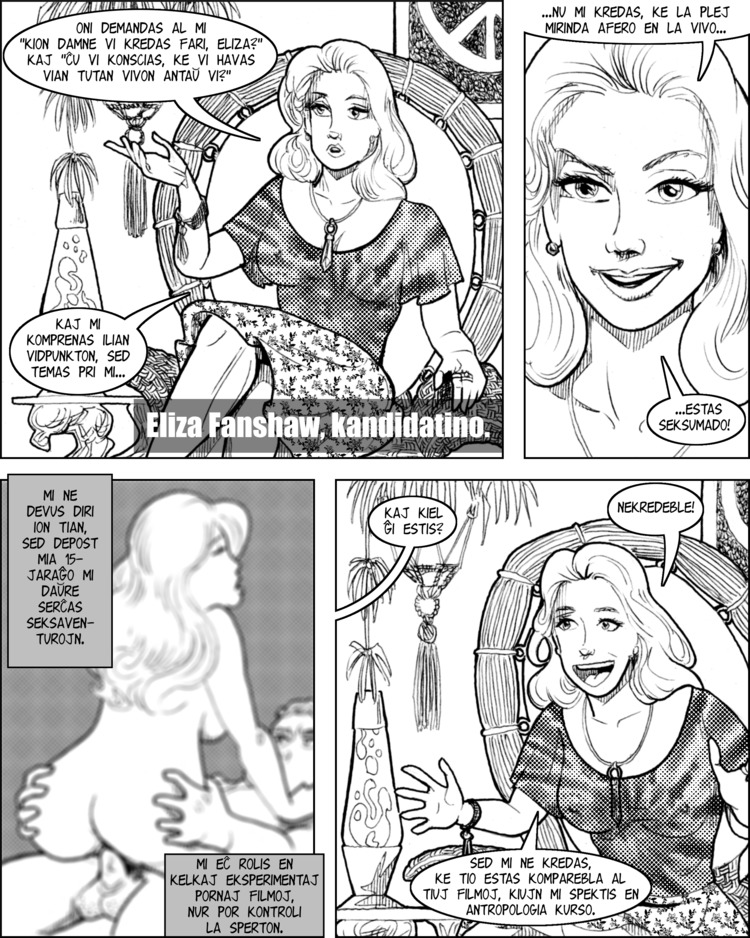 This work is licensed under a Creative Commons Attribution-NonCommercial-ShareAlike 4.0 International License.
PAGE 3 (Four panels)
Panel 1: ELIZA FANSHAW ("Eliza") sits in a big wicker chair in a kind of hippie-ish apartment. She's a bubbly-sexy blond girl. She wears thin cotton tie-dyed shirt that stretches a bit over her breasts (she's obviously braless) and a floral skirt and sandals. Her posture indicates she's being interviewed.
Eliza (1): People ask me, "What on earth do you think you're doing, Eliza?" and "Don't you know you have your whole life ahead of you?"
Translation (1): Oni demandas al mi "Kion damne vi kredas fari, Eliza?" kaj "Ĉu vi konscias, ke vi havas vian tutan vivon antaŭ vi?"
Eliza (2): And I see their point but, the thing is, about me…
Translation (2): Kaj mi komprenas ilian vidpunkton, sed temas pri mi…
SUBTITLE (3): Eliza Fanshaw, prospective subject.
Translation (3): Eliza Fanshaw, kandidatino.
Panel 2: Close-up on Eliza's smiling face, which should emphasize that she has a cute little snub nose.
Eliza (4): …is that I think that the most amazing thing about being alive…
Translation (4): …nu mi kredas, ke la plej mirinda afero en la vivo…
Elize (5): … is sex!
Translation (5): …estas seksumado!
Panel 3: View of Eliza (in very soft focus, to the point that we can scarcely identify her as Eliza) naked, seen from behind on top of a guy).
CAPTION – ELIZA NARRATING (6): I'm not supposed to say things like this, but ever since I was fifteen, I have been seeking out sexual adventure.
Translation (6): Mi ne devus diri ion tian, sed depost mia 15-jaraĝo mi daŭre serĉas seksaventurojn.
CAPTION – ELIZA NARRATING (7): I've even acted in some experimental adult films, just to see what it would be like.
Translation (7): Mi eĉ rolis en kelkaj eksperimentaj pornaj filmoj, nur por kontroli la sperton.
Panel 4: Eliza, back in the same pose as in Panel 1.
Unseen interviewer (out-of-panel balloon) (8): And what was it like?
Translation (8): Kaj kiel ĝi estis?
Eliza (9): It was awesome!
Translation (9): Nekredeble!
Eliza (10): But I don't think anything could compare with those movies I saw in Anthro.
Translation (10): Sed mi ne kredas, ke tio estas komparebla al tiuj filmoj, kiujn mi spektis en antropologia kurso.

Logaĵo (Esperanto/Longpaĝa versio)
Logaĵo (Esperanto/Diapozitivila versio)