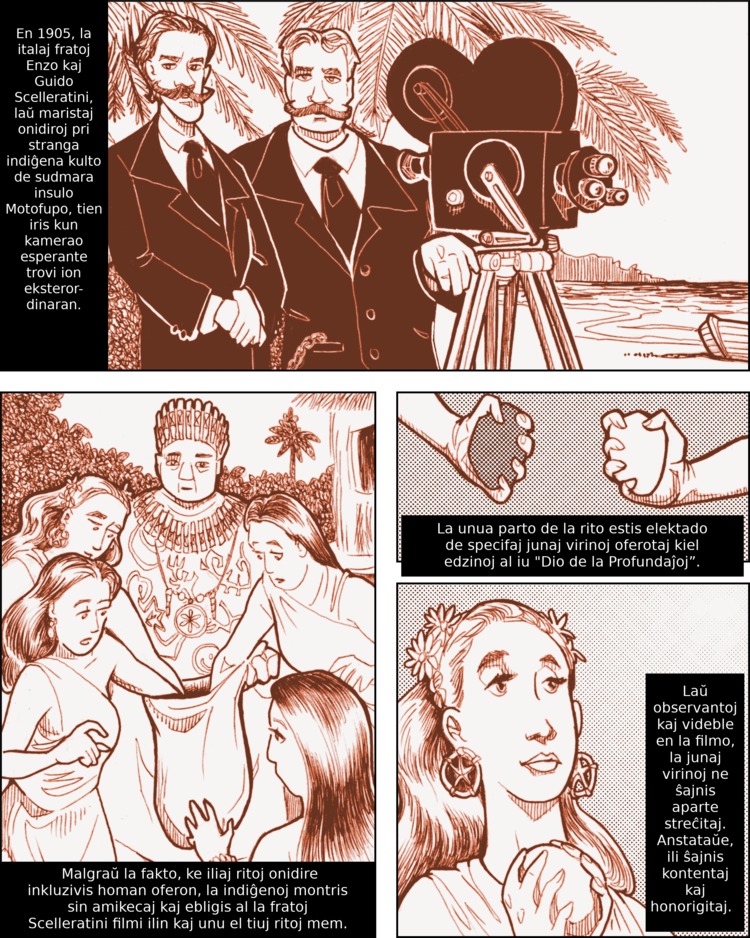 This work is licensed under a Creative Commons Attribution-NonCommercial-ShareAlike 4.0 International License.
PAGE 4 (Four panels)
(Note: The panels on this page should be sepia-toned, a visual indicator of the age of the photographic and cinematic material they are meant to represent.)
Panel 1: Two Italian men, ENZO SCELLERATINI ("Enzo") and GUIDO SCELLERATINI ("Guido") absurdly overdressed for their environment stand in coats, bow-ties, and bowler hats, posed on a beach with an old-fashioned, crank-operated movie camera. (Note: Both men have somewhat silly handlebar mustaches.)
CAPTION – PSEUDO-NARRATION (1): In 1905, Italian brothers Enzo and Guido Scelleratini, following up on sailors' rumors of a strange native cult on the South Seas island of Motofupo, went there with a movie camera in hopes of finding something unusual.
Translation (1): En 1905, la italaj fratoj Enzo kaj Guido Scelleratini, laŭ maristaj onidiroj pri stranga indiĝena kulto de sudmara insulo Motofupo, tien iris kun kamerao esperante trovi ion eksterordinaran.
Panel 2: A group of attractive young Polynesian-looking women dressed in muumuuu-like garments reaching into a sack together to draw something out.
CAPTION – PSEUDO-NARRATION (2): In spite of the fact that their rituals were rumored to include human sacrifice, the indigenous people proved friendly and allowed the Scelleratini brothers to film them and one of those very rituals.
Translation (2): Malgraŭ la fakto, ke iliaj ritoj onidire inkluzivis homan oferon, la indiĝenoj montris sin amikecaj kaj ebligis al la fratoj Scelleratini filmi ilin kaj unu el tiuj ritoj mem.
Panel 3: Close up of two hands of different young women in the panel. One holds a white stone, another a black stone.
CAPTION – PSEUDO-NARRATION (3): The first part of the ritual was a selection process to pick specific young women to be given to a "God of the Deeps" in marriage.
Translation (3): La unua parto de la rito estis elektado de specifaj junaj virinoj oferotaj kiel edzinoj al iu "Dio de la Profundaĵoj".
Panel 4: One young woman of the Motofupo people ("the Bride"), cradling a stone, a beatific expression.
CAPTION – PSEUDO-NARRATION (4): According to observers and apparent on the film was that the young women so selected did not seem distressed. They instead seemed pleased and honored.
Translation (4): Laŭ observantoj kaj videble en la filmo, la junaj virinoj ne ŝajnis aparte streĉitaj. Anstataŭe, ili ŝajnis kontentaj kaj honorigitaj.

Logaĵo (Esperanto/Longpaĝa versio)
Logaĵo (Esperanto/Diapozitivila versio)