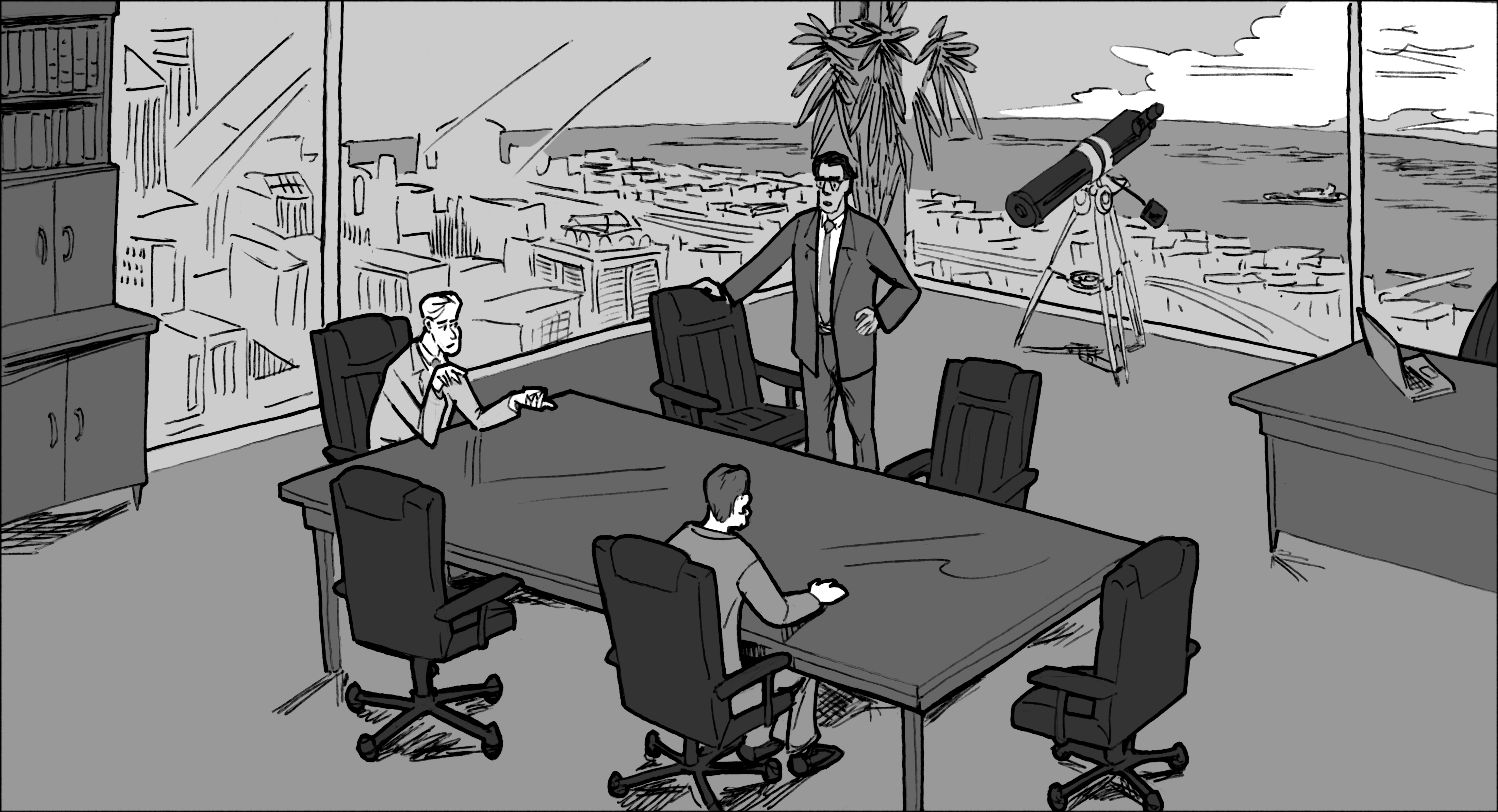 Click to load or right-click to download full-size image.
INT. HARRY'S NEW OFFICE – DAY
Harry, Arthur, and Joe are sitting in Harry's new office, which is quite spacious and richly appointed even by the standards of his last office. They sit around a teak conference table.
ARTHUR
Tell it to us again, Joe, and slowly this time.
JOE
This girl…she has figured out the creature likes to eat women and apparently in exchange, gives us things.
(looks around apprehensively)
And then she volunteered to be its next meal, suggesting that perhaps the next thing it gives us would be the answer to the Thanatos virus.
ARTHUR
Well, that's about the most insane thing I've ever heard.
(puts a reassuring hand on Joe's shoulder)
I'll talk to company security about measures to make sure that this girl doesn't make more of a nuisance of herself.
HARRY
(holding up a hand)
Wait.
ARTHUR
Wait?
HARRY
You might not be aware of this, Arthur, but our relationship with the national security community has been good and growing better ever since we did them a favor by letting them take credit for the Mediatrix. They've been kind enough to keep our research side appraised of intelligence reports on the Thanatos virus.
ARTHUR
And?
HARRY
It's bad, Arthur. It's really bad. How bad is classified, but…the science is baffling, and it's about one mutation away from from being an extinction-level event.
ARTHUR
I agree that is bad.
HARRY
Right now, I'm not saying that we get into the human sacrifice business. What I am saying is that it would be irresponsible of us not to consider all possible options.
JOE
What are you saying, Harry?
HARRY
Before we jump to conclusions about who is sane and who is no,t can we at least reach out to this young woman and offer a proper psychiatric evaluation?
ARTHUR
I don't know Harry, it just seems…
HARRY
We're scientists here, right? So why don't we try to make our decisions based on as much scientific information as we can gather.
Please do not reproduce this storyboard or its associated screenplay text without permission from Faustus, who may be contacted here.