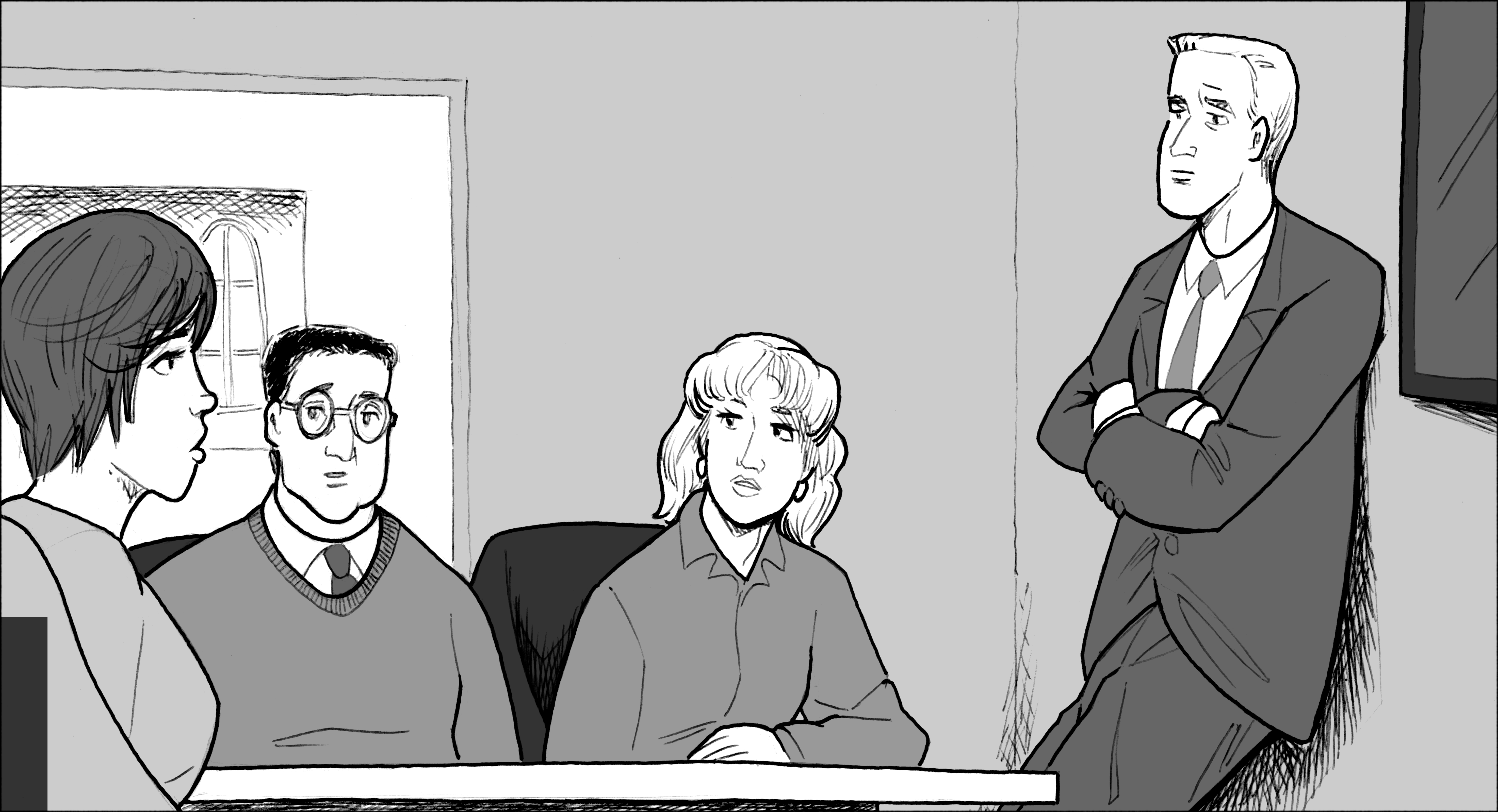 Click to load or right-click to download full-size image.
INT. THE WAREHOUSE CONFERENCE ROOM – DAY
Toozie, now comfortably dressed, sits with her college friends Miranda, Sherman, and, perhaps surprisingly, Chad. The three friends all wear lanyards with security badges; Toozie does not. Chad is a bit more formally dressed.
TOOZIE
I'm glad you all came to see me off, guys.
MIRANDA
I couldn't think of being anywhere else.
SHERMAN
No, me neither.
CHAD
You can always…not do this, you know.
TOOZIE
They've made it entirely clear to me that I can back out.
CHAD
And?
TOOZIE
I just don't think I will.
MIRANDA
I know why you think you have to do this, Toozie, and I'm sure we're all behind you but..
…we're going to miss you so much.
Toozie reaches out and comforts Miranda.
TOOZIE
Oh, Miranda. It's important. You make me feel like I have to play Socrates here.
(releases Miranda)
Remember when we read the Phaedo all together as first-years?
CHAD
You and I argued about that for three hours.
SHERMAN
Yes. I'm still not sure who won.
CHAD
Toozie seems at least seems as imperturbable in the face of…extinction as Socrates was.
SHERMAN
Socrates didn't see his cup of hemlock as extinction, necessarily.
TOOZIE
Nor do I, necessarily. Socrates at one point suggests that his death was possibly a sort of pilgrimage, and perhaps that what I'm about to go on as well.
MIRANDA
(snifflig)
And if extinction?
TOOZIE
To paraphrase Epicurus, where death is, I am not, so there is no harm. But as you all know I've long suspected that I not only will not be, but that I am not and I never have been.
SHERMAN
You still think that you're just a fiction?
CHAD
That's the one thing I could never really accept.
TOOZIE
I'll grant the body you are looking at exists. But can you find Toozie? Look at Toozie under the most powerful of magnifiers, and you won't find Toozie. You'll only find so many cells and organelles and molecules. Hook the most powerful machines Toozie's brain and you won't find Toozie. You won't find her memories, or her desires. You'll just find so many neurons. Take Toozie apart atom by atom, and you will only have a pile of atoms. Twenty or so dollars worth of stock chemicals. If there's a Toozie, it's because she's a character in the story of the world you carry around in your heads.
MIRANDA
And now the story is ending.
TOOZIE
Every story ends. All we can hope for is a good ending. Or at least an interesting one.
Please do not reproduce this storyboard or its associated screenplay text without permission from Faustus, who may be contacted here.