It is a privilege and a pleasure to be able to announce the Erosarts, who has tirelessly illustrated the Tales of Gnosis College for almost a decade now, has recently put out some of his own work under the title imMATURE Comics, issue #5. There two remarkable new stories here, super-heavy on babes, bondage, and outright science fiction. To tease the first, "The Secretary," a voluptuous young woman answers a want-ad for a secretarial position. Her rather unusual-looking employers subject her to a rather unusual job interview.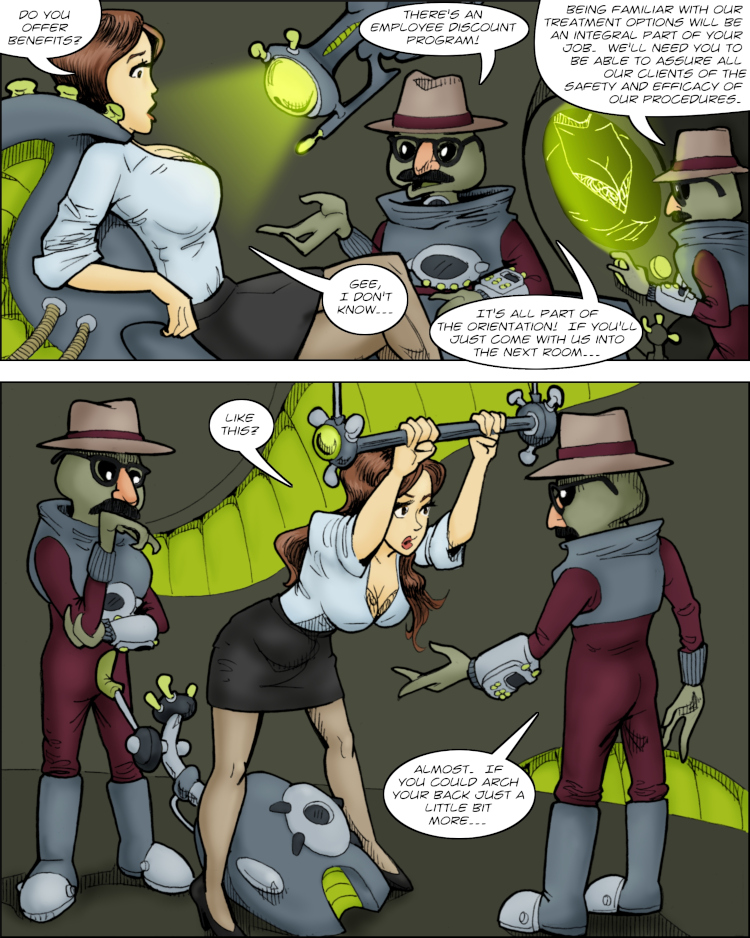 If you're a reader of this site, I'll be you want to see what happens next! Erosarts has graciously agreed to make this page available in high resolution: click to load or right-click to download.
The comic, which includes this story and two others, is available at DriveThruComics.com. It appears to be the site's policy to tuck adult material behind a membership wall (membership by itself doesn't cost anything). If you want to get to the landing page for this comic, you need to register at DriveThruComics.com, log in, click on the "Account" tab on the top of the page, click on "My Account Settings" down the page, and then check the "Adult" box, and then (and apparently only then) you can use use this link to get to the landing and order page for the comic.
But it's worth the hassle, believe me…