It's very gratifying, just after having run a ten-post series "on making your own," to be able to demonstrate a little bit of practicing what I've preached, by posting some new art I was able to commission from Niceman.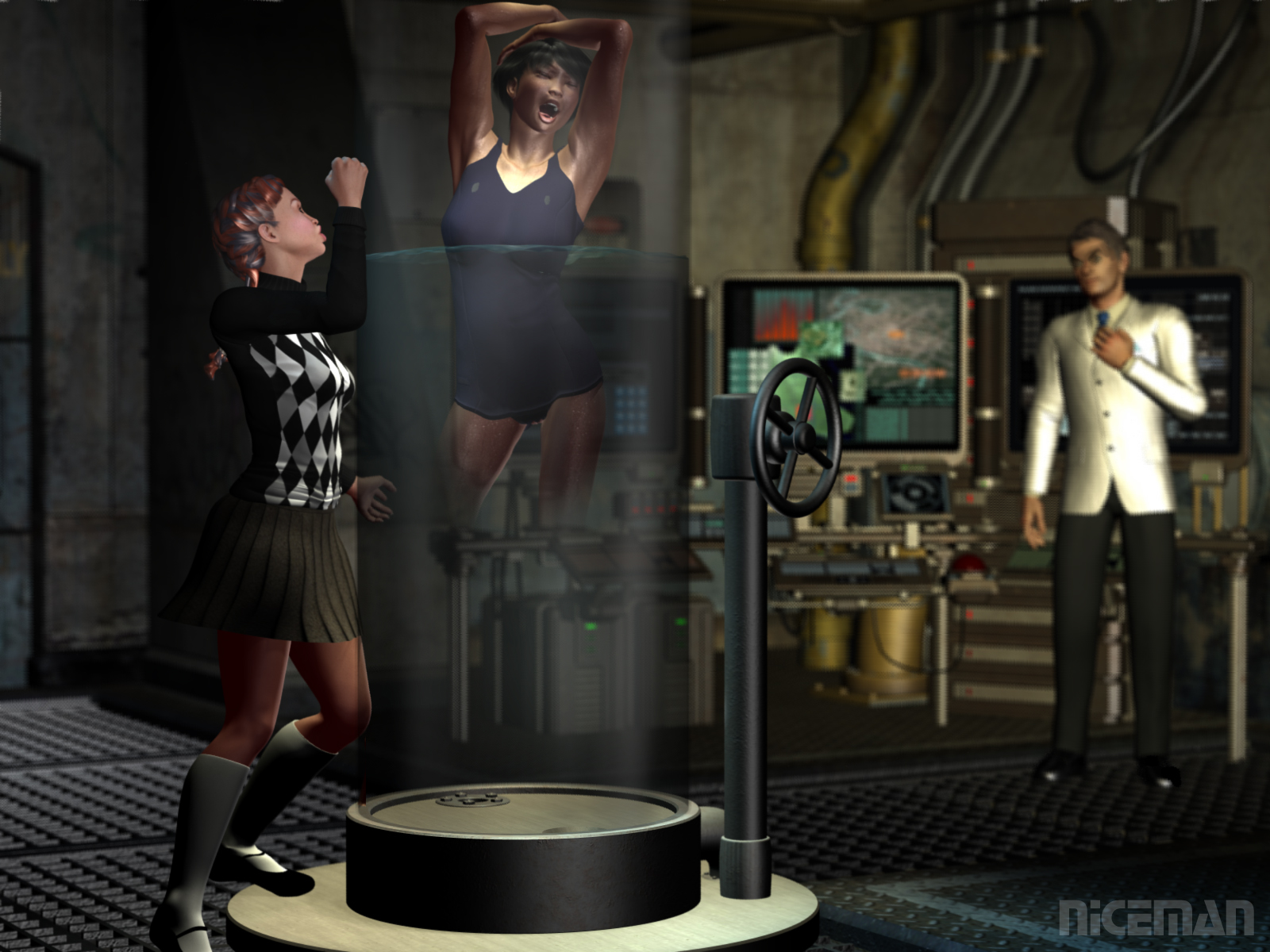 Apsinthion Dissolve by by Niceman, commissioned by Dr. Faustus at EroticMadScience.com is licensed under a Creative Commons Attribution-NonCommercial-NoDerivs 3.0 Unported License.   (Click on image to see full-size.)
The scene should be familiar — Li Anwei and Professor Corwin providing Nanetta Rector with a very convincing demonstration of the viability of a functionalist theory of mind in action, via the apsinthion protocol.   If you've read the script, you might recall:
The rise of the fluid continues to the point where it has reached Anwei's abdomen. She has disappeared up to her mid thigh.
NANETTA
What is going on here? What is happening to Anwei?
CORWIN
(mildly)
What is going on here is perfectly safe.
The fluid has reached up to Anwei's breasts, and Anwei has vanished up to her crotch.
Sound of a loud CRY from Anwei, muffled by the tube.
NANETTA
She is in pain!
CORWIN
Cries like that might indicate…something rather the opposite of pain.
NANETTA
This is insane! Stop this! Stop this right now?
CORWIN
But My dear Miss Rector, didn't you hear? To stop this now would risk death to Anwei.
Nanetta rushes up to the tube and pounds on its sides with her fists.
NANETTA
Anwei! Anwei!
What is left of Anwei pays no attention to Nanetta.
That was fun to write, but even so, the gratification was considerably heightened by being able to see it in an explicit visual realization.  Niceman may modestly describe himself as "just a farmboy nerd" over at Deviant Art, but he has a deft hand with rendering software and very much the right sort of vision for thaumatophile art, as the result above shows.  So if you like what you see, by all means pay him a visit over at Deviant Art or, if you're a subscriber, at Renderotica.  You'll be glad you did.