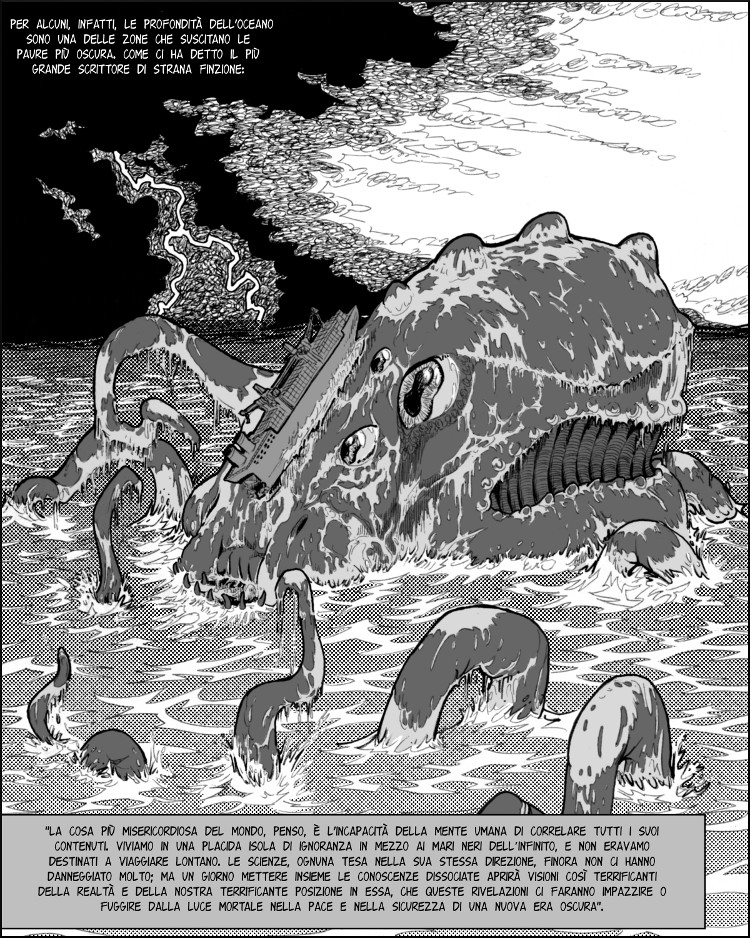 This work is licensed under a Creative Commons Attribution-NonCommercial-ShareAlike 4.0 International License.
PAGE 81 (Single panel page)
Single panel: A free page for the artist, with the

CAPTION – UU Minister speaking (1): For some, indeed the depths of the ocean are a zone of darkest fear. As the greatest writer of weird fiction once told us:

Translation (1): Per alcuni, infatti, le profondità dell'oceano sono una delle zone che suscitano le paure più oscura. Come ci ha detto il più grande scrittore di strana finzione:

CAPTION – UU Minister quoting (2): "The most merciful thing in the world, I think, is the inability of the human mind to correlate all its contents. We live on a placid island of ignorance in the midst of black seas of infinity, and it was not meant that we should voyage far. The sciences, each straining in its own direction, have hitherto harmed us little; but some day the piecing together of dissociated knowledge will open up such terrifying vistas of reality, and of our frightful position therein, that we shall either go mad from the revelation or flee from the deadly light into the peace and safety of a new dark age."

Comment (2): Again, the minister is quoting, this time the famous opening paragraph from the story "The Call of Cthulhu," by the American writer of horror and weird fiction H.P. Lovecraft (1890-1937). Again, if there is a usable literary translation in your target language you may use it.

Translation (2): " La cosa più misericordiosa del mondo, penso, è l'incapacità della mente umana di correlare tutti i suoi contenuti. Viviamo in una placida isola di ignoranza in mezzo ai mari neri dell'infinito, e non eravamo destinati a viaggiare lontano. Le scienze, ognuna tesa nella sua stessa direzione, finora non ci hanno danneggiato molto; ma un giorno mettere insieme le conoscenze dissociate aprirà visioni così terrificanti della realtà e della nostra terrificante posizione in essa, che queste rivelazioni ci faranno impazzire o fuggire dalla luce mortale nella pace e nella sicurezza di una nuova era oscura".

Esca (Italiano/Versione a pagina lunga)
Esca (Italiano/Versione con slider)